Explore Your Parks Adventure presented by FedEx
Calling all FedEx Corporate Challenge runners!
Fall is the perfect time to get outside and explore The Allegheny County Parks! This October, we're challenging you to complete a 3-mile run, walk, hike or jog in each of the 9 beautiful Allegheny County Parks. This corporate wellness challenge is self-guided, which means each participant has the freedom to complete their challenge on their own schedule, within the hours of the Allegheny County Parks. All participants will receive an exclusive Explore Your Parks 16oz Camper Mug, and all participants that complete the challenge in all 9 parks will receive a white MIIR water bottle with an "Explore Your Parks" sticker. The Explore Your Parks Adventure Challenge will take place throughout the entire month of October from Thursday, 10/1/20 through Saturday, 10/31/20. For every individual that participates, 50% of net proceeds will go towards planting new trees in Allegheny County Parks, in partnership with the Allegheny County Parks Foundation Tree Fund and FedEx.
Registration
Click here to register for the challenge!
Results
Click here to submit your results for the challenge!
The Parks
Boyce Park
Deer Lakes Park
Harrison Hills Park
Hartwood Acres Park
North Park
Round Hill Park
Settlers Cabin Park
South Park
White Oak Park
Learn more about the parks HERE
Social Media Fun
Don't forget to tag #alleghenycountyparks #corporatechallenge #runwithp3r when posting your park badges. We want to see your prgoress and cheer you on! (Find the badges by clicking the link below.)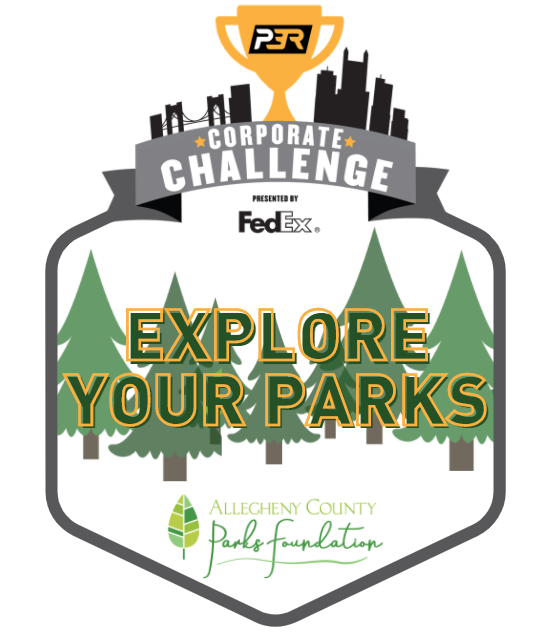 FIND BADGES HERE
FAQs
Can I participate in the Explore Your Parks Challenge if I'm not part of an official FedEx Pittsburgh Corporate Challenge team?
The short answer is YES. The Explore Your Parks Challenge was created to encourage our FedEx Corporate Challenge teams & runners to move and be active, but any and all are welcome to participate, and to enjoy the beauty of the Allegheny County Parks.
What is the FedEx Pittsburgh Corporate Challenge?
The FedEx Pittsburgh Corporate Challenge is an employee wellness program run by P3R that helps corporations and workplaces promote a culture of health and wellness. The Challenge was established in conjunction with the DICK'S Sporting Goods Pittsburgh Marathon - and all P3R events - to give corporate employees the resources and tools they need to accomplish the goals of participating in P3R's events. For more information on the Challenge - or if you're interested in getting your company officially enrolled - email Caroline Fitzgerald at caroline.fitzgerald@p3r.org to learn more and get started.
What is the timeframe to complete the Explore Your Parks Challenge?
October 1, 2020 through October 31, 2020.
When will my Explore Your Parks Camper Mug be shipped?
Mugs will ship at the conclusion of the Challenge - during the first week of November 2020.
Will I be required to submit proof of visiting each park?
If your goal is to win the Miir water bottle, then YES. Once the Challenge officially begins on 10/1/20, a submission page will be available on Race Roster where you can check-off each Park that you visited.
Can you please provide more information about the locations of the nine Allegheny County Parks?