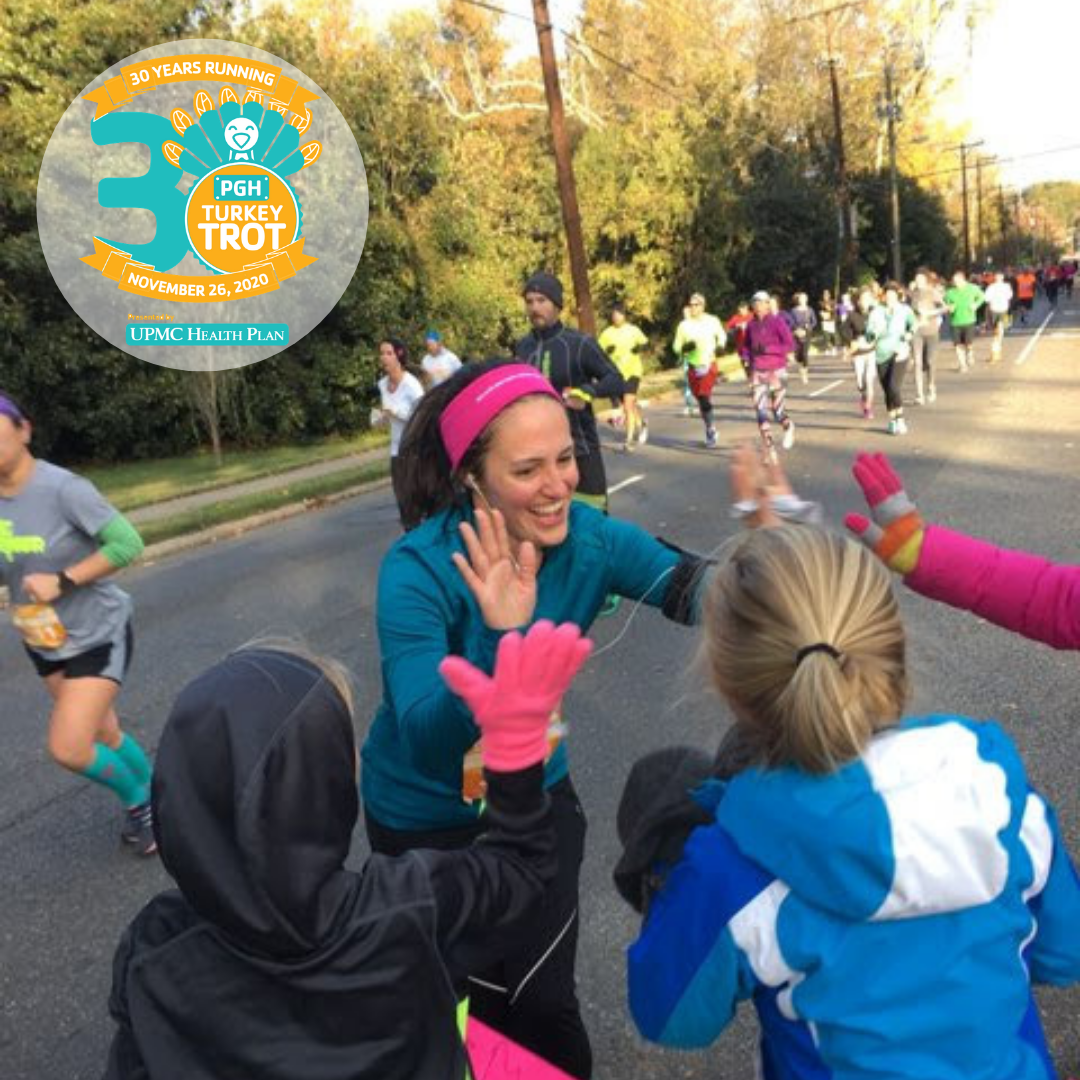 Find the Joy in Running as a Family This Thanksgiving
Confession: one of my favorite things about running is the chance to run on holidays or birthdays. It sounds silly, but it's true. My family knows that this is such a part of who I am that they even threw a race-themed surprise party for me. The idea of people gathering together in anticipation of the big day ahead makes me smile from ear to ear. If you're anything like me, I am the best version of myself after a run (even after the rough ones), leaving me the chance to enjoy the rest of the day with a clear head, happy heart, and hungry stomach.
One great part about this year's 30th Annual YMCA of Greater Pittsburgh Turkey Trot presented by UPMC Health Plan is that you can make it fit your schedule. Cooking and know you only have a window of time before you have to prep the next item? Perfect. Lace up those shoes at the hour that works for you. Are you an essential worker (first off, thank you!) and know you can't run on Thanksgiving but the Turkey Trot is a tradition? Pick a day that week and run, walk, skip. However and whenever you want to move, go for it! Just keep moving forward. It's what we have tried to do all year, right? Let's keep that momentum going.
Now onto the fun part, getting everyone involved. Virtual races have been an adjustment, there are no two ways about it, but with some creativity, they can be the start of some entertaining traditions for families of all sizes and ages. Here are some ideas of things to consider when planning your Virtual YMCA Turkey Trot:
Incorporate race day traditions: There's nothing that says you can't incorporate your favorite parts of race day into virtual races. Pick out your clothes ahead of time and photograph your flat runner (don't forget to tag @RUNwithP3R in the pic). Eat your race morning meal that gets your mind and stomach in the mood to run.
Don't forget your finish line traditions too! Take a picture with your medal, celebrate with an Eat n Park cookie, and even wear your medal all day. While the course is different, the accomplishment is not.
My virtual race tradition that also happens during live races? I still tear up when I finish my virtual race. I know it's not the traditional finish line, but I'm so grateful that despite what this year has thrown at us, I'm able to run and push myself, so I almost always shed a few tears.
Find an accessible course: If members of your group are new to running, a course full of hills might be intimidating. Find someplace that's accessible for all levels, like a track or a trail. Just be mindful of appropriate social distancing.
Come together as a family for pre-race stretches: Encourage someone in your family to be the leader of stretches. My four-year-old daughter likes to lead us in stretches, which makes us laugh because 1) we're not as flexible as she is and 2) her idea of stretches is entertaining. Are they what we'd typically do? Not quite, but it gives her a chance to lead, and us a chance to work on our summersaults, because, stretching.
Find joy in the run: This will mean different things for different people. Some runners, especially Turkey Trotters, love a good costume run. If costumes make you swoon, bring it to your virtual race. If costumes aren't your thing, what else can you do to bring joy to your run? Talk about the triumphs of the year, what you're looking forward to about the day ahead, or simply soak in the fact that you are spending some uninterrupted time with the family. Any combination of those things will spark joy to carry forward into your day.
There are so many opportunities to build this year's Turkey Trot into longstanding and new traditions. How will you make this run unique for your family and carry elements into future races?
Click here to sign up for the YMCA of Greater Pittsburgh Turkey Trot presented by UPMC Health Plan!