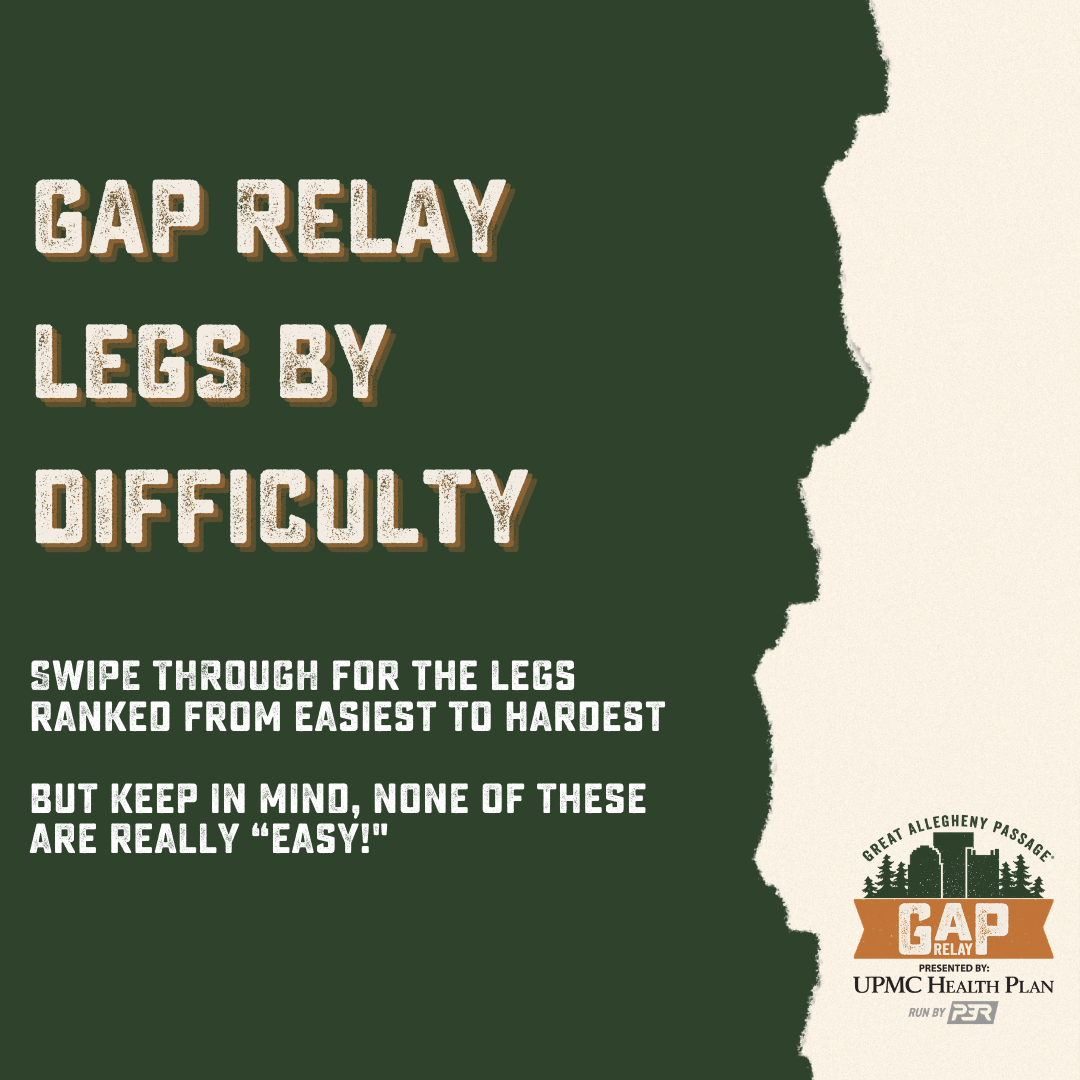 GAP Legs Ranked By Difficulty
05.26.21
With 24 legs to choose from, the GAP Relay is full of unique distances and endeavours! Check out the list of legs ranked from easiest to hardest, but keep in mind, none of these are really "easy"!
1. Duquesne to Mckeesport
Distance: 3
Leg Number: 3
2. Cedar Creek to Smithton
Distance: 2.53
Leg Number: 8
3. Smithton to Whitsett
Distance: 4.16
Leg Number: 9
4. Southside to Homestead
Distance: 4.67
Leg Number: 1
"Easy leg to kick off the relay. You might spot some birdwatchers at the lookout point. As you run past Sandcastle, daydream about taking a dip on a hot day." - P3Runner, Katie Kinnamon
5. West Newton to Cedar Creek
Distance: 3.52
Leg Number: 7
6. McKeesport to Boston
Distance: 4.59
Leg Number: 4
7. Ramcat to Harnedsville
Distance: 4.54
Leg Number: 15
8. Helmstetter's Curve to Canal Place
Distance: 5.18
Leg Number: 24
9. Homestead to Duquesne
Distance: 5.61
Leg Number: 2
"Short and sweet, Homestead to Duquesne has some surprising elevation and has a public water source if you need to reload your hydration midcourse." - P3Runner, James Stiffey
10. Garrett to Meyersdale
Distance: 4.64
Leg Number: 19
11. Dawson to Connellsville
Distance: 5.18
Leg Number: 11
12. Frostburg to Woodcock Hollow
Distance: 6.98
Leg Number: 22
13. Buena Vista to West Newton
Distance: 6.44
Leg Number: 6
14. Boston to Buena Vista
Distance: 7.23
Leg Number: 5
"Boston to Buena Vista doesn't feature much in the way of elevation but the long open trail can be surprisingly difficult with mid-day sun and no shade." - P3Runner, James Stiffey
15. Markelton to Rockwood
Distance: 6.13
Leg Number: 17
16. Bruner Run to Ohiopyle
Distance: 6.04
Leg Number: 13
"While it's a steady uphill, the gorgeous views are a welcome distraction. There are two bridges, and as you cross the second one, you'll know the end of the leg is in sight." - P3Runner, Katie Kinnamon
17. Deal to Frostburg
Distance: 9.23
Leg Number: 21
"Deal to Frostburg is long but rewarding. You cross the state line, the Mason Dixon, the eastern continental divide, and get to experience one of the best views on the trail as you exit the Big Savage tunnel." - P3Runner, James Stiffey
18. Myersdale to Deal
Distance: 7.29
Leg Number: 20
19. Ohiopyle to Ramcat
Distance: 8.56
Leg Number: 14
20. Rockwood to Garrett
Distance: 7.33
Leg Number: 18
21. Whitsett to Dawson
Distance: 9.54
Leg Number: 10
22. Woodcock Hollow to Helmstetter's Curve
Distance: 5.35
Leg Number: 23
23. Harnedsville to Markelton
Distance: 9.27
Leg Number: 16
24. Connellsville to Bruner Run
Distance: 11.5
Leg Number: 12
Which legs will you be running this year?!