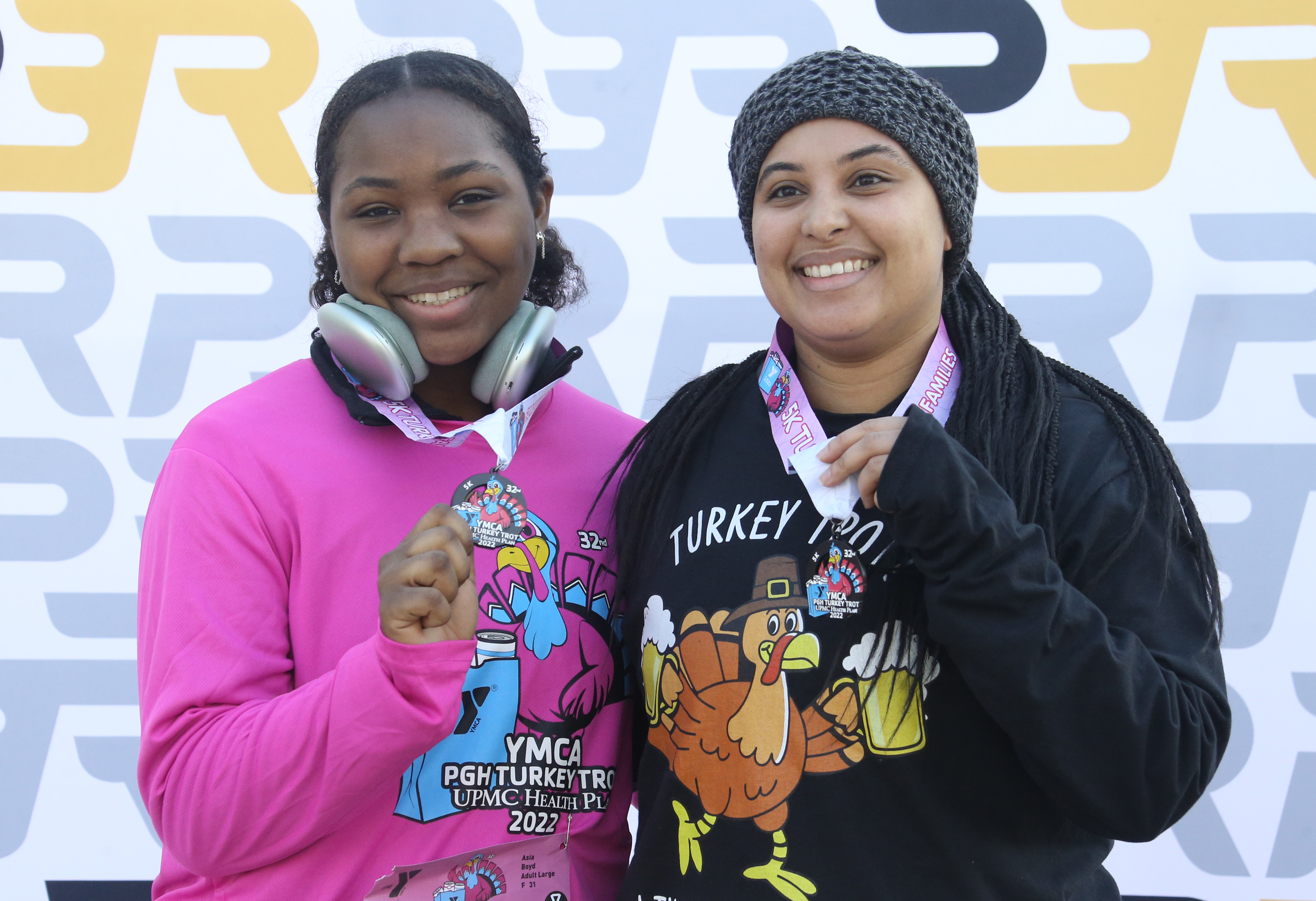 33 Reasons Why Your Family Should Join the 33rd YMCA Pittsburgh Turkey Trot
09.26.23
Thanksgiving is a time for traditions, togetherness, and giving back to our community. This year, as we celebrate the 33rd annual YMCA Pittsburgh Turkey Trot presented by UPMC Health Plan, we have 33 incredible reasons why your family should be a part of this cherished tradition.
A Rich Legacy
The Turkey Trot has been a Pittsburgh tradition since 1991 and continues to make a positive impact year after year!
Historical Roots
Did you know that the very first turkey trot took place in 1896 with just six runners (and only four finishers!)? Since then, Thanksgiving Day has become the most popular day to race in the USA with more than 1,000 official turkey trots nationwide.
via GIPHY
Varied Distances
Choose from FOUR race options:
- The One-Mile Family Fun Run presented by Busy Beaver
- The classic 5K presented by UPMC Health Plan
- The challenging 5-Mile presented by FedEx
- The thrilling Double Gobble presented by Pietragallo Gordon Alfano Bosick & Raspanti, LLP
via GIPHY
Exclusive Gift
If you take on the Double Gobble challenge, you'll receive a limited-edition apron to commemorate your achievement!
Thanksgiving Morning
Start your Thanksgiving holiday with a burst of energy and a sense of community.
Help Combat Food Insecurity
By participating, you directly contribute to the YMCA's food pantry programs and the Greater Pittsburgh Community Food Bank.
Impactful Giving
The Greater Pittsburgh Community Food Bank provides over 12.5 million pounds of healthy produce and 42 million meals annually to those in need.
Community Outreach
The Food Bank serves more than 35,000 people in our local communities every month.
Alarming Stats
Feeding America's research reveals that 1 in 10 of our neighbors - that's more than 236,560 individuals - experience food insecurity in the 11 local counties served by the Food Bank.
Perfect for First-Timers
With the 1-Mile and 5K distances along with the supportive and engaging atmosphere, the YMCA Pittsburgh Turkey Trot is a fantastic chance for anyone looking to cross their first finish line.
Great for Seasoned Runners/Walkers
With the 5K, 5-Mile, and Double Gobble, there's a distance for just about everyone who is looking to set a new goal and absolutely crush it.
via GIPHY
Corporate Support
Title partner UPMC Health Plan, as well as distance partners Busy Beaver, FedEx, and Pietragallo Gordon Alfano Dosick & Raspanti, LLP, support the event, emphasizing its community importance.
Affordable for Families
Kids 4 and younger can participate for free, and kids aged 5-18 can sign up at a 50% discount!
Inclusivity
The PGH Turkey Trot welcomes participants of all ages and fitness levels!
Commemorative Race Shirt
Every participant will receive a race shirt as a memento of this special day and the difference you are helping to make in your community.
Finisher's Medal
For those seeking extra recognition or more bling to add to their collection, finisher's medals can be purchased during registration or at the finish line (while supplies last).
via GIPHY
The Bragging Rights
For the rest of the holiday, you get to tell people you ran in the Turkey Trot and made a difference in your community!
via GIPHY
Family Bonding
The Turkey Trot is an excellent opportunity for families to bond, create lasting memories, and start a new Thanksgiving tradition.
via GIPHY
Beautiful Scenery
The race route takes you through scenic Pittsburgh, offering breathtaking views along the way!
Costume Fun
Many participants don creative and festive costumes, adding a fun element to the event!
Positive Energy
Experience the positive energy of thousands of people coming together for a great cause.

FOMO
You'll be disappointed for the rest of the day because you didn't take this opportunity to do something good for yourself AND your community!
Early Start
This early morning race allows you to make a difference in your community while leaving you with plenty of time to enjoy the rest of your Thanksgiving holiday with your family and friends.
Stress Relief
Running or walking can be a fantastic stress-reliever, helping you start the holiday season with a clear mind.
Setting an Example
Set an example for your kids by demonstrating the importance of an active and charitable lifestyle.
Gobble on the Go
If you're traveling for Thanksgiving, you can participate virtually and still make a difference in your home community while you're away.
Showcase Pittsburgh to Out-of-Towners
Family and friends visiting you for the holiday? Bring them along to show them our incredible city in a different way.
The Chance to Inspire Someone
Every runner has a story, and yours is going to inspire someone somewhere to get moving.
Chance to Give
All participants are encouraged to bring non-perishable food donations to packet pickup and/or the race itself. Let's make this event a celebration of community nourishment, as well as a wonderful way to bond with your fellow runners and neighbors.
Family-Friendly Fun
Strollers are welcome in the 1-mile race, ensuring that families can participate together and create lasting memories on this special day.
80 Tons of Impact
Since 2020, the YMCA has distributed over 80 tons of food to local neighborhoods.
Positive Vibes
Surround yourself with positivity and feel-good vibes that come from contributing to a charitable cause.
Giving Thanks
Use this opportunity to reflect on the significance of Thanksgiving by participating in an event that supports those in need.
With these 33 compelling reasons, there's no better time to register your family for the 33rd YMCA Turkey Trot. Join us on Thanksgiving morning for a memorable and meaningful experience! Click here to sign up!