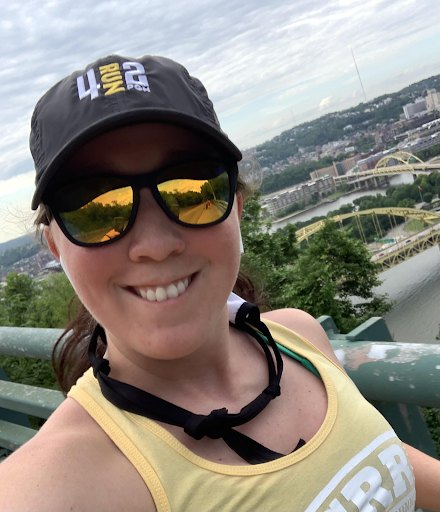 4.12 Things Every Yinzer Runner Should Know
The Yinzer 4.12K, benefitting Light of Life Rescue Mission, is BACK in 2022 and has a course that I cannot wait to run because it celebrates the City of Champions! When we think of the City of Champions, the three major sports teams are usually in the forefront, but every Yinzer Runner in Pittsburgh is a champion because of the unique elements that running this city takes. Here are 4.12 things every Yinzer Runner already knows, and if not -- should know!
1. Hills - Climbing the hills here in Pittsburgh is a rite of passage for every yinzer. My favorite place to head for a hill workout is Mt. Washington to run up and down PJ McArdle. After running PJ McArdle, you'll understand why residents and tourists alike regularly choose to take one of the two historic inclines when they head up to Mt. Washington.
**If you really want to challenge yourself, head to Canton Avenue in Beechview. It is considered to be the second steepest street in the world with a grade of 37%.
2. Bridges - Yinz are probably familiar with the three bridges on the DICK'S Sporting Goods Pittsburgh Marathon course; 16th Street, West End, & Birmingham. Running over these bridges creates the biggest feeling of triumph that yinzers even wear shirts to celebrate! With 446 bridges in the city of Pittsburgh, runners have plenty of opportunities to go on a "bridge run" and earn that extra badge of honor.
3. The Three Rivers - There are 33 nonlinear miles of trail along Pittsburgh's riverfronts which are popular routes for Yinzer Runners. The Yinzer 4.12K, benefiting the Light of Life Rescue Mission, is held every year on the North Shore near the Three Rivers Heritage Trail. This year's yinzer-tastic event is open to all runners and even includes a costume party and a great after party full of Yinzer staples!
4. Parks - Pittsburgh has great parks full of beautiful nature, history, and most importantly, great running trails and paths. It isn't surprising to see someone repping black and gold from their favorite Pittsburgh sports team in the parks! Which black and gold items are you going to wear at this year's Yinzer 4.12K?
.12 - Many of the local parks also have tracks which are perfect for training for short distances and gearing up for race day!
Registration for the 2022 Yinzer 4.12K is open -- register today and show off how much of a Yinzer Runner you are!
Written by P3Runner, Cara Group