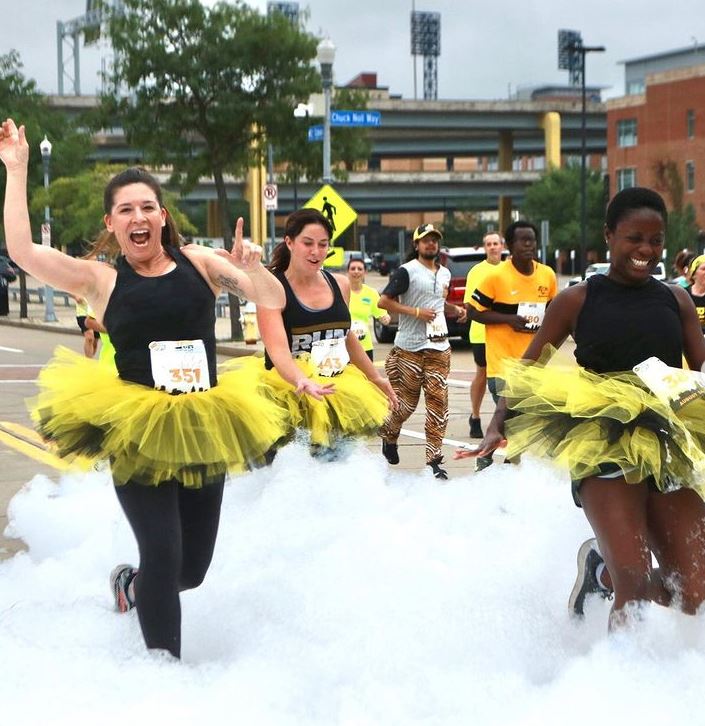 Light of Life Hosts Largest Yinzer 4.12K in Event History in Partnership with P3R
08.14.21
Nearly 700 yinzers participated in this year's event on the North Shore and virtually, raising the most funds in event history
PITTSBURGH (August 14, 2021) – With a brand new course distance, the Yinzer 4.12K had record-breaking participation along its North Shore course with nearly 700 Yinzers celebrating the best of Steel City, as well as raising the most funds for the mission in event history. The event is annually held by Light of Life Rescue Mission to support its work for the homeless, addicted and those in need around Pittsburgh.
Since 2018, Light of Life has raised $63,000 for the Mission through this event, and this year's event raised $86,779 for the mission.
Runners dressed in their finest Pittsburgh attire with a "best dressed yinzer" award and other Pittsburgh prizes handed out at the event. Participants enjoyed a post race celebration on the Great Lawn including a performance by FRZY, a dunk tank, food trucks, and more.
"We are so excited to have this year's Yinzer 4.12K back in person and to see the support of so many people in our great city," said Rev. Jerrel T. Gilliam, Executive Director of Light of Life Rescue Mission.
Light of Life partnered with P3R, the engine behind Pittsburgh's greatest races, to produce and grow this year's event.
"We loved partnering with Light of Life and driving their mission forward with a larger event and inspiring more Yinzers to move," said Troy Schooley, P3R CEO. "We look forward to continuing this partnership and enhancing the race experience each year."

Learn more about Light of Life Rescue Mission's work here.
# # #

About P3R
P3R is the engine behind Pittsburgh's greatest races. We strive to inspire any and all to MOVE with us. Best known for organizing the acclaimed annual DICK'S Sporting Goods Pittsburgh Marathon, P3R runs a variety of other high-quality races, events, and health and fitness programs throughout the Pittsburgh region. While many of our races attract some of the nation's highest-profile professional athletes, we offer activities for all ages and ability levels. Anyone and everyone is invited to #RUNwithP3R! Read more at: P3R.org
FACEBOOK: RUNwithP3R TWITTER: @RUNwithP3R INSTAGRAM: RUNwithP3R

About Light of Life Rescue Mission
Since 1952, Light of Life has been a place where hope and healing meet for men, women and families in need. Light of Life transforms lives through the love of Christ by providing food, shelter and hope to those experiencing homelessness, poverty or addiction to restore them as healthy members of our community.
WEBSITE: www.lightoflife.org