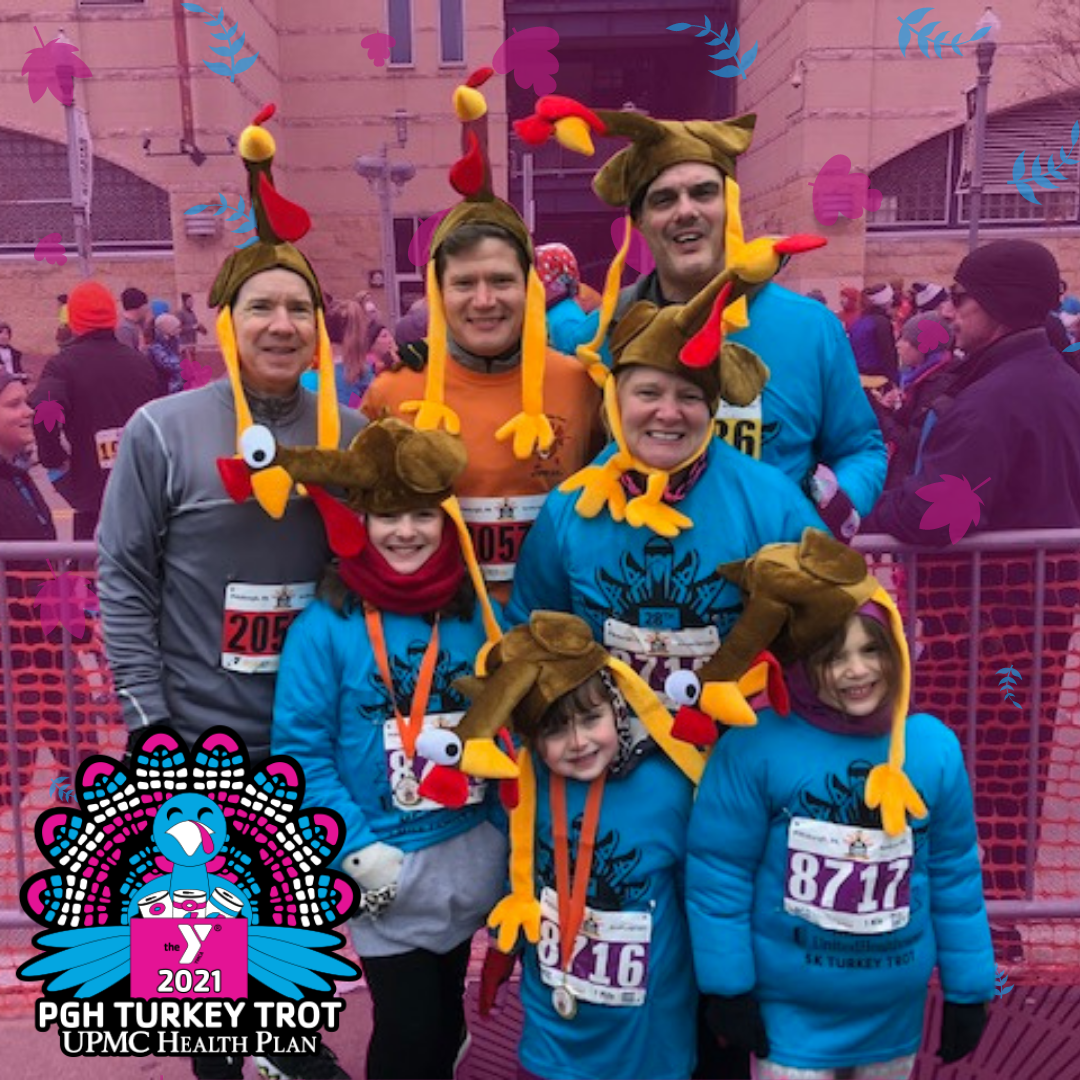 Local Pittsburgh Family Resumes Thanksgiving Traditions With the YMCA of Greater Pittsburgh Turkey Trot Presented by UPMC Health Plan
11.17.21
As the weather cools down and the holiday season heats up, we can't help but feel excitement knowing this year's YMCA of Greater Pittsburgh Turkey Trot presented by UPMC Health Plan is almost two weeks away! The Zimmerman family is ready to get back to a live start line—will you join them?! Read on to learn more about what this annual tradition means to their family.
The YMCA of Greater Pittsburgh Turkey Trot presented by UPMC Health Plan is gobbling up an iconic return to a live start line! Nearly two weeks away, the city streets will once again welcome thousands of runners, cheering spectators, and turkey hats to the North Shore for the first time since 2019. Among those celebrating the in-person reunion of the beloved Pittsburgh holiday tradition is the Zimmerman family.
Five-time participants of the Turkey Trot, Katie Zimmerman says the annual race has become a Thanksgiving staple for herself, her husband Charlie and their three daughters. A few years into the family's Turkey Trot participation, Katie's brother Brian purchased turkey hats for the family to wear which added even more fun and motivation to continue the yearly tradition.
For the first time in two years, the Zimmermans will be spending Thanksgiving morning back on the North Shore to participate in the Turkey Trot. The family of five is eager to take on the 1-Mile Family Fun Run together, followed by cheering on husband and dad, Charlie, in the UPMC Health Plan 5K Run/Walk. Katie's brother Brian will represent their family in this year's FedEx 5-Mile Run. The whole family is excited to support a local cause through their Thanksgiving miles and the Zimmerman daughters, Kayla, Lily, and Zoey, will be rocking their matching turkey hats!
"Running with my brother in our turkey hats, braving the cold weather, and seeing so many people come out on Thanksgiving are some of my favorite Turkey Trot memories throughout the years," said Katie. "The Turkey Trot is a positive, uplifting environment and experience."
The Turkey Trot is just the start of holiday festivities for the Zimmerman family. Once they cross the finish line, they'll watch the Thanksgiving Day parade before heading over to Katie's mother's house for a post-race Thanksgiving feast.
With a race event fit for everyone in the family, a stunning North Shore course, and a great mission to support, the YMCA of Greater Pittsburgh Turkey Trot presented by UPMC Health Plan is not one to miss. Join the Zimmerman family, and thousands more, on Thanksgiving morning to start your holiday celebrations off on the right foot. Reunite with a live Thanksgiving start line this year by registering your family today