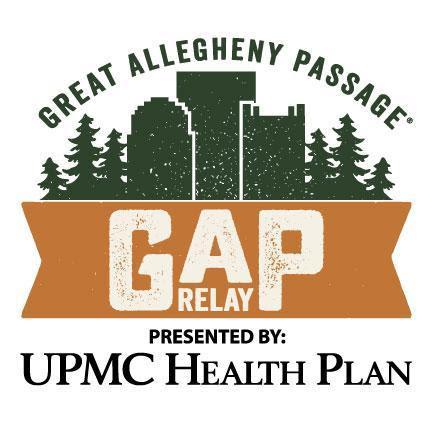 Nearly 40 Teams Prepare to Take on the 2021 GAP Relay presented by UPMC Health Plan
09.20.21
The 2021 race introduces a new course for the 150-mile relay, as well as a new 60-mile, one-day option for participants
PITTSBURGH (September 20, 2021) – The 2021 GAP Relay presented by UPMC Health Plan opened registration with its brand-new experience for runners on the Great Allegheny Passage from Pittsburgh to Cumberland, Md. There are currently 38 teams registered for this year's event.
Previously, the event ran in the opposite direction starting in Cumberland, Md. P3R and its partners are excited to change things up for 2021, with participants starting in Pittsburgh. With a new, 60-mile, one-day option, a limited number of teams can join the race early Saturday morning as well.
"UPMC Health Plan is excited and proud to once again support the 2021 GAP Relay. We encourage runners of all fitness levels to join us in having a great time, and to take advantage of the new options to participate," said Dr. James Schuster, chief medical officer at UPMC Insurance Services Division.
Teams of eight, six, or four will run the full 150-mile distance while pairs or teams of two or four can experience the 60-mile one-day adventure course. This option gives runners on smaller teams the opportunity to see what this race is all about.
"We cannot wait to bring participants back out on the GAP trail and continue our sustainability efforts with this year's event," said Troy Schooley, P3R CEO. "This event has been carbon neutral for the past two years, and we are continuing to work closely with UPMC Health Plan and the Pennsylvania Environmental Council to enhance these efforts each year."
Participants can also expect exciting giveaways and activities at the start line, select exchange zones along the course and at the finish line in Cumberland, Md.
Registration for the annual trail race is currently open at http://p3r.org/races/. Proceeds from the race will help with the ongoing maintenance and improvements of the Great Allegheny Passage.
# # #
About P3R
P3R is the engine behind Pittsburgh's greatest races. We strive to inspire any and all to move with us. Best known for organizing the acclaimed annual DICK'S Sporting Goods Pittsburgh Marathon, P3R runs a variety of other high-quality races, events and health and fitness programs throughout the Pittsburgh region. While many of our races attract some of the nation's highest-profile professional athletes, we offer activities for all ages and ability levels. Anyone and everyone is invited to #RUNwithP3R! Read more at: P3R.org
FACEBOOK: RUNwithP3R INSTAGRAM: RUNwithP3R TWITTER: http://www.twitter.com/runwithp3r@RUNwithP3R
About UPMC Insurance Services
Serving 4 million members, UPMC Insurance Services is owned and operated by UPMC, a world-renowned health care provider and insurer based in Pittsburgh, Pa. UPMC Insurance Services includes commercial products from UPMC Health Plan for groups as well as individuals. Commercial products also include workers' compensation and employee assistance from nationally known WorkPartners®. Government products include Medicare Advantage (UPMC for Life); special needs plans for those eligible for Medicare and medical Assistance (UPMC for Life Complete Care and UPMC Community HealthChoices); medical Assistance (UPMC for You); and Children's health Insurance program (UPMC for Kids); and Community Care Behavioral Health Organization. For more information, visit upmchealthplan.com.
About the Allegheny Trail Alliance (ATA)
Founded in 1995, ATA is a coalition of seven trail organizations in southwestern Pennsylvania and western Maryland that is charged with promoting and enhancing the Great Allegheny Passage, a 150-mile multiple use rail-trail system between Cumberland, MD and Pittsburgh, PA and the 52-mile Montour Trail, to provide a connection to the Pittsburgh International Airport. Completed in 2013, The Passage is now connected to the 184.5 mile C&O Canal Towpath in Cumberland and provides a non-motorized, nearly level trail system between Washington, DC and Pittsburgh, PA. For more information on the Great Allegheny Passage and the Allegheny Trail Alliance, visit www.GAPtrail.org.
FACEBOOK: GAPtrail TWITTER: @gap_trail INSTAGRAM: gap_trail