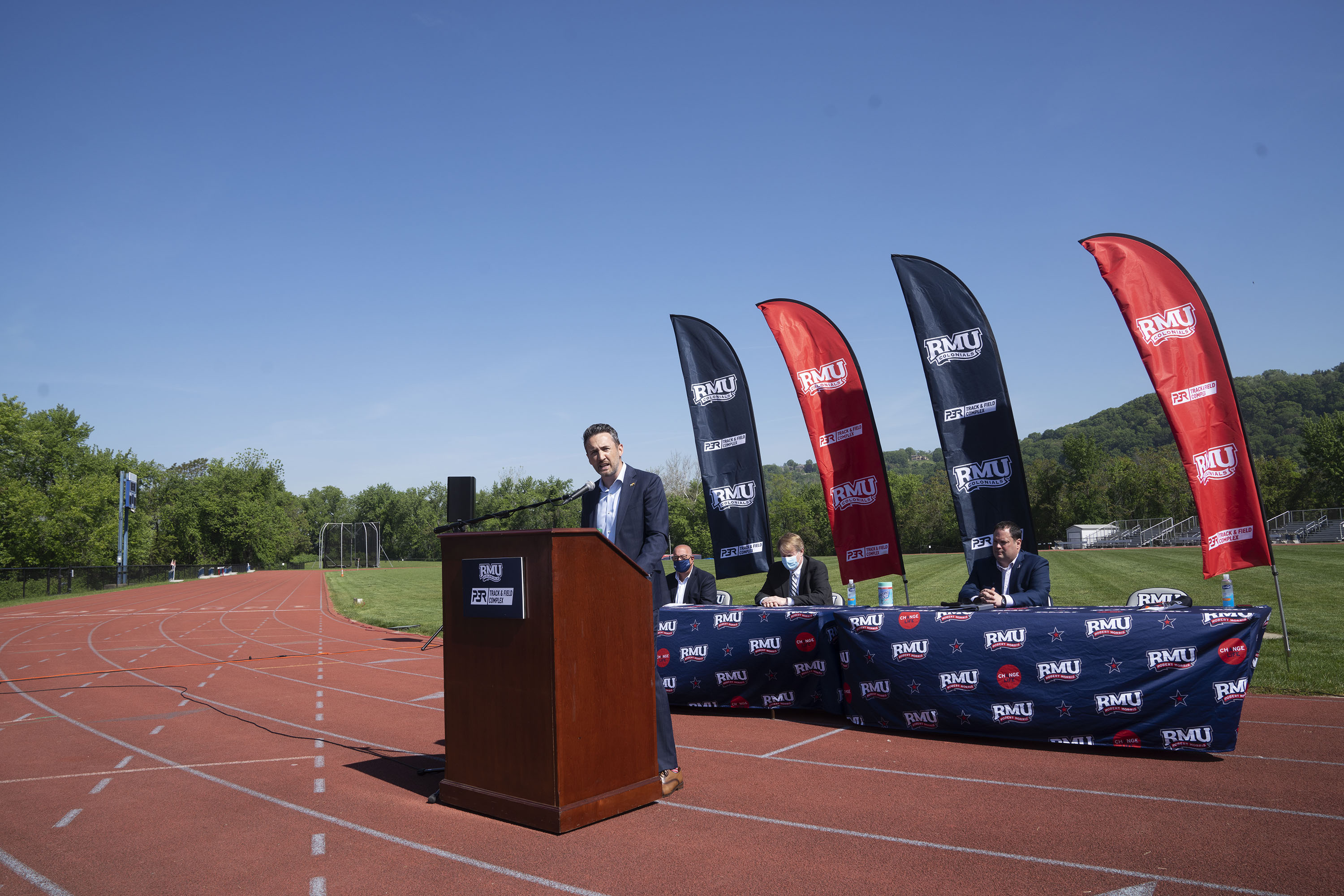 P3R and Robert Morris University Announce Partnership of the P3R Track & Field Complex
05.19.21
Renovations to the track at the Island Sports Center are underway and will be utilized by college athletes and the community
PITTSBURGH, PA (May 19, 2021) – Construction has begun at the future P3R Track & Field located at Robert Morris' Island Sports Center, starting with resurfacing of the track. Through the partnership, P3R and Robert Morris will work together to ensure athletes have the opportunity to continue improving their performance and compete at the next level.
A press conference was held on May 19, announcing the partnership and officially kicking off the construction project. SportsPITTSBURGH will also work closely with P3R to bring events from around not only the region, but the country, to this upgraded facility.
"With our Kids of STEEL Program, we focus on teaching kids at a young age the importance of movement," said P3R CEO, Troy Schooley. "We have seen kids from our program who participate in our events go on to attend RMU for track and field, so we want to continue to build that relationship and give these young athletes the best opportunities for their futures, along with so many others in our region that strive to live an active lifestyle by getting out and moving with P3R."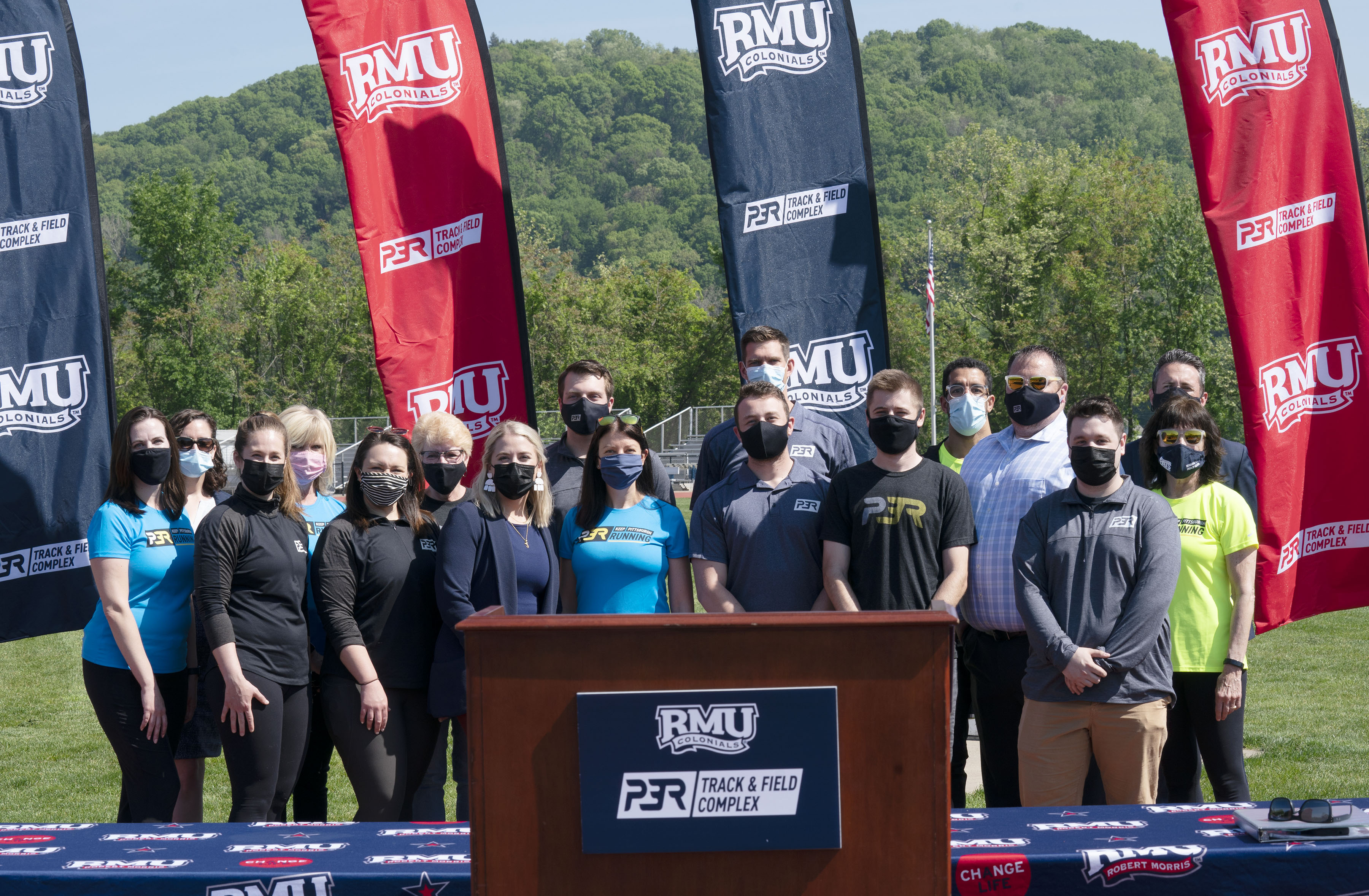 "We're thrilled to announce our relationship with P3R and proud to announce that the track and field complex will now be the P3R Track & Field Complex," RMU Vice President and Director of Athletics Chris King, '94, said. "P3R is one of the most visible brands within the Pittsburgh region, and we are appreciative of starting a long-term partnership for youth, high school, college and community events. We're grateful to P3R CEO and RMU alumnus Troy Schooley for bringing the premier partnership together. P3R has made a substantial investment in RMU Athletics and the success of current and future RMU student-athletes."
The finished track will be home to many RMU track and field competitions. The location will also host a few events from the 2023 National Senior Games that are happening in Pittsburgh.
"As a program we couldn't be more excited for our partnership with P3R," RMU head cross country and track & field coach Bryan Delsite said. "The P3R Track & Field Complex will not only help bolster recruiting immensely, but the facility will help attract some of the best events to come to the Pittsburgh area. It will also be key for RMU student-athletes in their day-to-day training throughout the year."
The press conference was live-streamed and is available here.
To learn more about P3R, head to p3r.org.
About P3R
P3R is the engine behind Pittsburgh's greatest races. We strive to inspire any and all to move with us. Best known for organizing the acclaimed annual DICK'S Sporting Goods Pittsburgh Marathon, P3R runs a variety of other high-quality races, events, and health and fitness programs throughout the Pittsburgh region. While many of our races attract some of the nation's highest-profile professional athletes, we offer activities for all ages and ability levels. Anyone and everyone is invited to #RUNwithP3R! Read more at: P3R.org
FACEBOOK: RUNwithP3R TWITTER: @RUNwithP3R INSTAGRAM: RUNwithP3R
About RMU (rmu.edu)
Robert Morris University is a nationally ranked doctoral research university, enrolling approximately 4,000 undergraduate and graduate students in more than 90 undergraduate and graduate degree programs. RMU offers fully online courses as well as a traditional residential college experience at its campus on 230 scenic acres 17 miles from downtown Pittsburgh. The Colonials compete in 16 NCAA Division I sports, including ice hockey, basketball, football, volleyball and lacrosse.
About RMU Athletics (rmucolonials.com)
From its fertile beginning as a men's basketball junior college powerhouse to one of the most diverse athletic program in the Pittsburgh tri-state area, RMU offers 16 intercollegiate athletic programs, including the only men's and women's NCAA Division I hockey teams and men's lacrosse team in the region. Over the last 45 years, the Colonials have claimed 52 conference regular-season and 53 league tournament titles. On July 1, 2020, RMU joined the Horizon League for 10 of its 16 athletic programs, including cross country and track & field. Football joined the Big South Conference as an associate member in 2021, women's lacrosse accepted an invitation to join the Mid-American Conference (MAC) as an affiliate member and men's lacrosse will join the ASUN in 2022. The RMU men's hockey program competes in Atlantic Hockey, while women's hockey is a member of College Hockey America (CHA). The Metro Atlantic Athletic Conference (MAAC) serves as the home for RMU rowing.
About SportsPITTSBURGH
As a division of VisitPITTSBURGH, SportsPITTSBURGH's primary goal is to attract and host a wide variety of sporting events while providing planners and local stakeholders with the expertise and professionalism required to host a world-class event in the Pittsburgh region. Pittsburgh, the "City of Champions," is dedicated to hosting events that make public health and safety top priorities. For more information on Pittsburgh's health and safety protocols, visit sportspittsburgh.com.