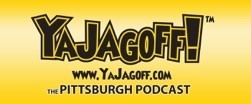 P3R and YMCA of Greater Pittsburgh Partner with Ya Jagoff! Podcast to Produce Exclusive Pittsburgh-centric Content for the YMCA Turkey Trot Presented by UPMC Health Plan
10.07.21
Partnership hopes to inspire yinzers of all ages and abilities to participate in the annual event and help raise money for YMCA food pantry programs and the Greater Pittsburgh Community Food Bank.
PITTSBURGH, PA – P3R and YMCA of Greater Pittsburgh have partnered with Ya Jagoff! Podcast to add some yinzer fun and humor to this year's YMCA Turkey Trot presented by UPMC Health Plan.
As part of the partnership, Ya Jagoff! Podcast co-hosts Rachel Rennebeck and John Chamberlin will produce a 45-minute pre-recorded audio track of local music, plus interesting interviews with YMCA Turkey Trot sponsors, Greater Pittsburgh Community Food Bank representatives and participants. Leading up to race day, they also will include exclusive interviews and special announcements about the YMCA Turkey Trot through the Ya Jagoff! Podcast.
"We have set out to educate Pittsburghers, yinzers in particular, that a jagoff is a term of endearment," Rennebeck said. "How have you been, ya jagoff. In this case, good luck at the turkey trot, ya jagoff. The turkey trot is so Pittsburgh from the good it brings to the people who participate, and we are proud to be part of this yinzer tradition."
The 31st annual Thanksgiving Day morning run has become a Pittsburgh tradition for all ages that benefits the YMCA food pantry programs and the Greater Pittsburgh Community Food Bank. Additional donations pledged during the registration process also provide Thanksgiving dinner to local families in the Pittsburgh region.
This year's event offers 5-mile, 5K, and 1-mile fun run distances that bring families back to a live start line on Thanksgiving Day. A virtual event option will also be offered, allowing participants to help fight food insecurity from anywhere in the world. For more information and to register, visit pittsburghymca.org/turkeytrot
About P3R
P3R is the engine behind Pittsburgh's greatest races. We strive to inspire any and all to move with us. Best known for organizing the acclaimed annual DICK'S Sporting Goods Pittsburgh Marathon, P3R runs a variety of other high-quality races, events, and health and fitness programs throughout the Pittsburgh region. While many of our races attract some of the nation's highest-profile professional athletes, we offer activities for all ages and ability levels. Anyone and everyone is invited to #RUNwithP3R! Read more at: P3R.org
FACEBOOK: RUNwithP3R INSTAGRAM: RUNwithP3R TWITTER: @RUNwithP3R
About the Y
The Y is the nation's leading nonprofit committed to strengthening communities through youth development, healthy living and social responsibility. Our mission is to put Christian principles into practice through programs that build healthy spirit, mind and body for all. The YMCA of Greater Pittsburgh is a 501c(3) charitable organization committed to closing the achievement gap, eliminating health disparities and providing aid to financially struggling families throughout the greater Pittsburgh region. Our Y serves more than 60,000 individuals each year and provides nearly $750,000 dollars in membership and program subsidies to individuals and families. Every day, the Y works side by side with people of all faiths and beliefs to ensure that everyone regardless of age, income or background, has the opportunity to learn, grow and thrive.