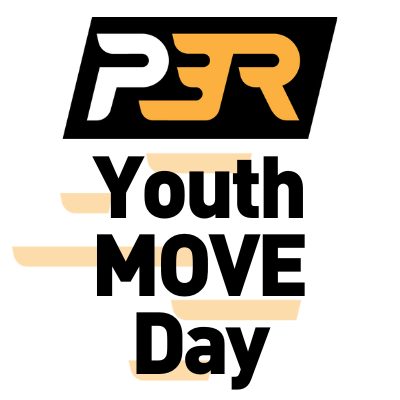 P3R Hopes to Inspire the Next Generation with Youth MOVE Day Presented by Brooks Running on Aug. 6
07.25.22
The event invites students of all ages to MOVE; students entering grades 7-12 can participate in timed track events while kids and families will enjoy free-flowing fun field activities focused on movement.
PITTSBURGH – For the first time, P3R will host Youth MOVE Day presented by Brooks Running to inspire kids and their families to get moving. The fun community event on Aug. 6 invites students entering grades 7-12 to participate in timed track events at the P3R Track & Field Complex, located at the RMU Island Sports Center. In addition, kids of all ages and their families can enjoy fun field events and free-flowing games centered around movement led by local fitness experts.
"Our mission at P3R is to inspire any and all to MOVE with us, and we work hard to find new and exciting ways to engage with our community," said Troy Schooley. "We've never hosted an event like this one that gives young student-athletes the opportunity to gauge their fitness and compete against others."
Middle school and high school athletes are encouraged to enter the appropriate timed track events as a training event or to measure their training progress over the summer. The Fully Automated Timed events (FAT Timing System) will include the 2-mile run, 40-yard dash, 400-meter, 1-mile run, 100 meter, 4x800 relay and 4x400 relay. Student-athletes can also use these recorded times for college recruiting. Participation in the timed events is FREE but students must be registered by Aug. 4 to establish heats. Live results will also be available on pa.milesplit.com.
"We are excited to support P3R's Youth MOVE Day and inspire the next generation of runners," said Stevie Jones, senior manager of events & partnership marketing at Brooks Running. "At Brooks Running, we believe that running is a gift and events like this are a great way to expose kids and their families to the positive energy of running."
Youth 13 and under along with their families will have the opportunity to participate in Kids of STEEL activities centered on movement, tackle inflatable obstacle courses, contribute to a collaborative art piece from "Pittsburgh Builds Bridges" artist Ebtehal Badawi, purchase P3R and 4RUN2 merchandise, and receive giveaways from event partners. Fleet Feet Pittsburgh, Brooks Running, Bruster's Real Ice Cream, Tang Soo Do Karate College, Goldfish Swim School and more, will add to the fun. The Greater Pittsburgh Community Food Bank (GPCFB) also will be onsite for families to learn more about child nutrition and available assistance.
"GPCFB is pleased to partner with P3R on this youth event to help promote healthy lifestyles that include proper nutrition and physical activity," said Karen Dreyer, Director of Child Nutrition Programs at GPCFB.
P3R partnered with Robert Morris University in 2021 to renovate the track at the RMU Island Sports Complex and provide more opportunities for athletes of all ages to take their fitness to the next level.
"We are thrilled to partner with P3R in hosting this wonderful community event that brings youth of all ages together and gives many in our area their first look at the P3R Track & Field Complex at the RMU Island Sports Center," said Rob Goodman, RMU's Sr. Associate Athletic Director for External Operations.
Click here for more information or to register for the event. Follow @KidsofSTEELpgh and @RUNwithP3R on social media for more event updates.
About P3R
P3R is the engine behind Pittsburgh's greatest races. We strive to inspire any and all to MOVE with us. Best known for organizing the acclaimed annual DICK'S Sporting Goods Pittsburgh Marathon, P3R runs a variety of other high-quality races, events, and health and fitness programs throughout the Pittsburgh region. While many of our races attract some of the nation's highest-profile professional athletes, we offer activities for all ages and ability levels. Anyone and everyone is invited to #RUNwithP3R! Read more at: P3R.org
FACEBOOK: RUNwithP3R INSTAGRAM: RUNwithP3R TWITTER: @RUNwithP3R