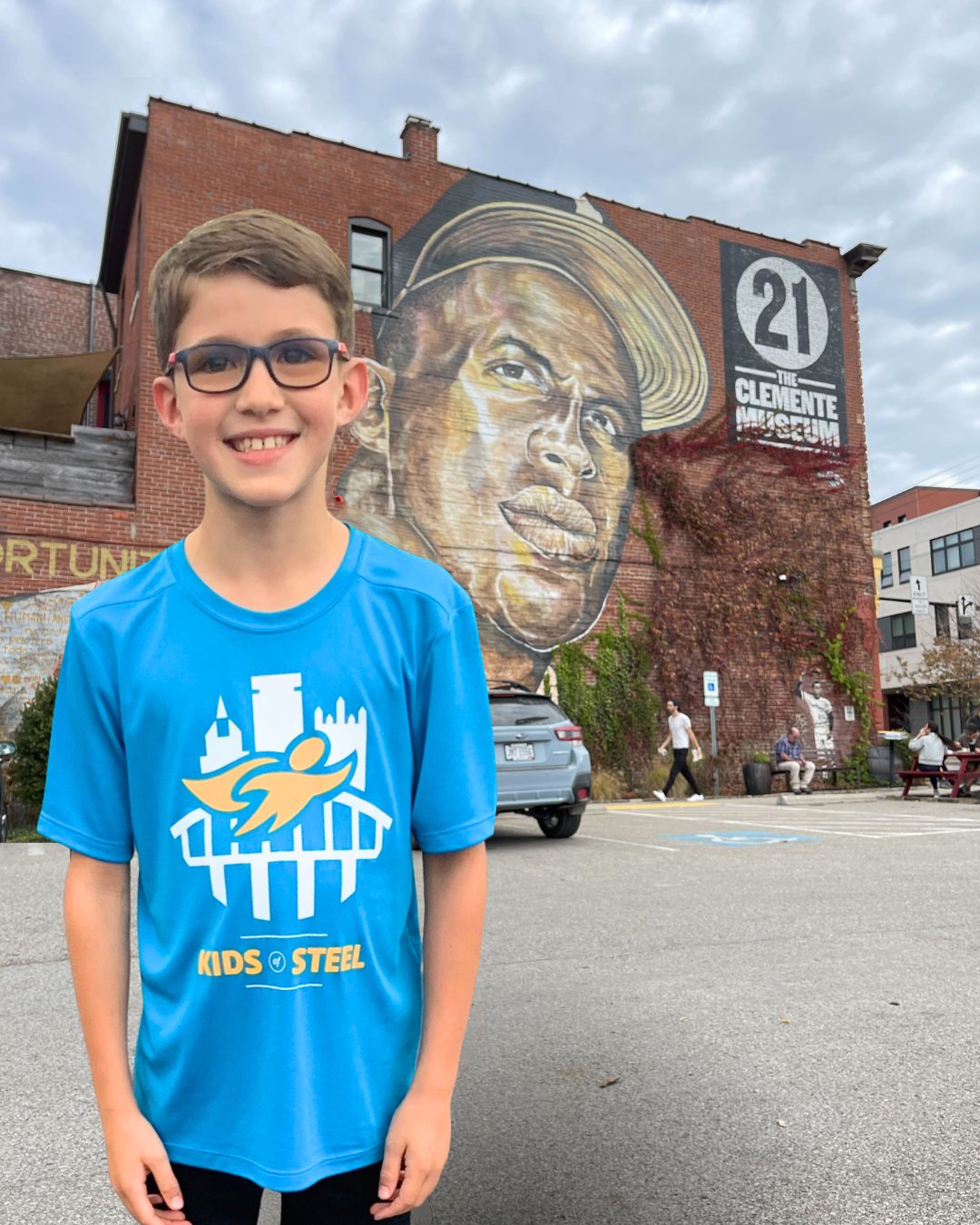 P3R Partners with Roberto Clemente Museum and Roberto Clemente Foundation to Expand Kids of STEEL, Promote Clemente's Legacy
02.07.23
P3R aims to launch a Kids of STEEL site in Clemente's birthplace of Puerto Rico and also work with the Latino community in Pittsburgh to promote physical fitness and character building
PITTSBURGH - P3R has partnered with The Clemente Museum and the Roberto Clemente Foundation to inspire more young people and their families to MOVE through the award-winning youth running program Kids of STEEL. Through the partnership, P3R plans to launch a Kids of STEEL site in Clemente's birthplace of Puerto Rico and will work with the Latino Community Center in Pittsburgh to promote Clemente's humanitarian legacy. Local Kids of STEEL participants will also gain valuable insight about Clemente's legacy through awareness and educational efforts.
"Roberto Clemente's lasting legacy is his dedication to helping those less fortunate, especially children in both Pittsburgh and his native Puerto Rico," said Duane Rieder, Executive Director for the Clemente Museum. "We're honored to carry on his humanitarian work with Kids of STEEL."
The partnership will allow youth of all ages and backgrounds to learn the value of being a well-rounded individual through physical movement and character development, something that Clemente championed.
"Partnering with an organization dedicated to preserving the legacy of not only a tremendous athlete, but a better humanitarian, provides our Kids of STEEL participants a great example to follow," said P3R CEO Troy Schooley. "Roberto Clemente dedicated his free time to helping children, similar to all of our Kids of STEEL coordinators and coaches, and we are excited to make this connection."
The partnership also will include workout/educational videos, support of Kids of STEEL 'Training to the Moon' and a physical presence at Kids of STEEL events, such as Kids of STEEL Fest and the Chick-fil-A Pittsburgh Kids Marathon. The Clemente Museum also will serve as the year-end Kids of STEEL coordinator "Thank you" event.
Kids of STEEL is available at more than 225 sites throughout Pennsylvania. The program motivates kids and their families to move together as they train for an event during the 2023 DICK'S Sporting Goods Pittsburgh Marathon Weekend of Events. Click here for more information about Kids of STEEL. Follow @KidsofSTEELpgh and @theclementemuseum on social media for more updates.
About P3R
P3R is the engine behind Pittsburgh's greatest races. We strive to inspire any and all to MOVE with us. Best known for organizing the acclaimed annual DICK'S Sporting Goods Pittsburgh Marathon, P3R runs a variety of other high-quality races, events, and health and fitness programs throughout the Pittsburgh region. While many of our races attract some of the nation's highest-profile professional athletes, we offer activities for all ages and ability levels. Anyone and everyone is invited to #RUNwithP3R! Read more at: P3R.org
FACEBOOK: RUNwithP3R INSTAGRAM: RUNwithP3R TWITTER: @RUNwithP3R
About Clemente Museum
The Clemente Museum is housed in historic Engine House 25, located in the Lawrenceville section of Pittsburgh to showcase the world's largest exhibited collection of baseball artifacts, works of art, literature, photographs, memorabilia, and related materials which focus on Roberto Clemente, his teammates, personal life, and humanitarian causes. The Clemente Museum works to fulfill the mission of honoring Roberto Clemente's memory and promote the humanitarianism he accomplished in his life.
FACEBOOK: @theclementemuseum INSTAGRAM: theclementemuseum TWITTER: @clementemuseum
About the Roberto Clemente Foundation
The Roberto Clemente Foundation is a 501(c)(3) non-profit organization founded to honor and perpetuate the legacy, legend and courage and character of Roberto and Vera Clemente. The Foundation maintains the values which Roberto embodied on and off the field of hard work, faith, love, service and helping those less fortunate. The Foundation promotes sport and play, particularly through baseball and softball, and has conducted numerous clinics with several partners. In addition to hospital and school visits, the Foundation provides college scholarships, led disaster relief efforts, military and veteran support initiatives, conducts equipment drives and supports the Clemente Cup for NAIA and Division III college baseball teams. For more information visit www.robertoclementefoundation.com