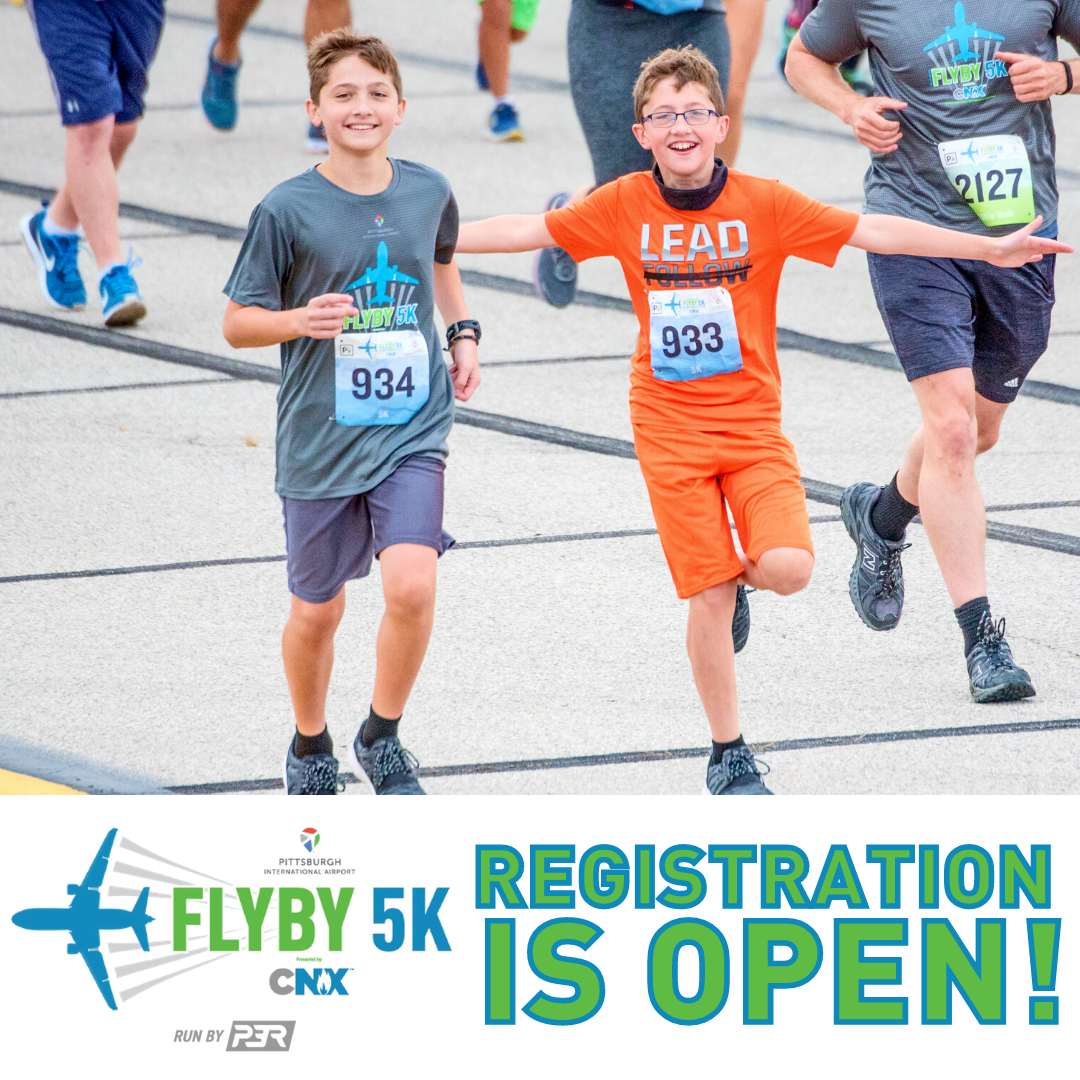 Registration Open for the 2022 FlyBy 5K and 2-Mile Fun Run/Walk presented by CNX Resources
06.09.22
This bucket list race offers the rare opportunity to run or walk the runways of Pittsburgh International Airport on Oct. 1
PITTSBURGH, PA – Registration is now open for the 2022 FlyBy 5K and 2-Mile Fun Run/Walk presented by CNX Resources. This bucket list race, scheduled for Oct. 1, offers the rare opportunity to run or walk the airfield and taxiways and experience the Pittsburgh International Airport upclose. Run by P3R in partnership with the Allegheny County Airport Authority, this year's event is expected to attract more than 1,500 participants.
"For the fourth year, we are thrilled to partner with P3R and Allegheny County Airport Authority to host one of the country's largest airport 5Ks," said Brian Aiello, CNX Vice President of External Relations. "The event provides a fun challenge for family and friends that they can't get anywhere else. It's also a great opportunity to further highlight the innovative public-private partnership between the airport and CNX that is leveraging on-site natural gas development and new technologies to reduce emissions and costs in transportation and other local economic sectors.
All 5K and 2-Mile Fun Run/Walk participants will receive a technical men's or women's finisher's shirt and medal. Participants can look forward to awards and post-race festivities following the officially timed, closed course event. Proceeds benefit the Allegheny County Airport Authority Charitable Foundation, a non-profit organization established to assist members of the military, families and others traveling through the airport. Since 2016, the event has raised nearly $100,000 for the Allegheny County Airport Authority Charitable Foundation.
"This event is one of our favorite times of the year, because it gives families a unique way to engage with the airport and all that we do here," said Christina Cassotis, CEO of the Allegheny County Airport Authority, which operates Pittsburgh International Airport. "We take pride in supporting our community and finding creative ways to leverage our resources, and this is a fun way to do that."
"This event is a fun and exciting way for families to get outside and be active together," said Troy Schooley, P3R CEO. "We see entire families come back year-after-year to take part in this one-of-a-kind race."
The 5K race will start at 10 a.m. and costs $30, while the 2-Mile Fun Run/Walk will start at 10:10 a.m. and costs $20. For more information or to register, click HERE.
About P3R
P3R is the engine behind Pittsburgh's greatest races. We strive to inspire any and all to move with us. Best known for organizing the acclaimed annual DICK'S Sporting Goods Pittsburgh Marathon, P3R runs a variety of other high-quality races, events, and health and fitness programs throughout the Pittsburgh region. While many of our races attract some of the nation's highest-profile professional athletes, we offer activities for all ages and ability levels. Anyone and everyone is invited to #RUNwithP3R! Read more at: P3R.org
FACEBOOK: RUNwithP3R INSTAGRAM: RUNwithP3R TWITTER: @RUNwithP3R
About CNX Resources Corporation:
CNX Resources Corporation (NYSE: CNX) is unique. We are a premier natural gas development, production, midstream, and technology company centered in Appalachia, one of the most energy abundant regions in the world. With the benefit of a 158-year regional legacy, substantial asset base, leading core operational competencies, technology development and innovation, and astute capital allocation methodologies, we responsibly develop our resources and deploy free cash flow to create long-term per share value for our shareholders, employees, and the communities where we operate. As of December 31, 2021, CNX had 9.63 trillion cubic feet equivalent of proved natural gas reserves. The company is a member of the Standard & Poor's Midcap 400 Index. Additional information is available at www.cnx.com.
About Allegheny County Airport Authority
Allegheny County Airport Authority, which operates Pittsburgh International Airport and Allegheny County Airport, is committed to transforming Pittsburgh's airports to reflect and serve the community, inspire the industry, and advance the region's role as a world leader. Pittsburgh International Airport serves nearly 10 million passengers annually on 17 carriers. The airport was named by Fast Company magazine as One of the Most Innovative Companies in the World as well as a finalist in its World Changing Ideas awards, both in 2020. For more information, visit www.flypittsburgh.com