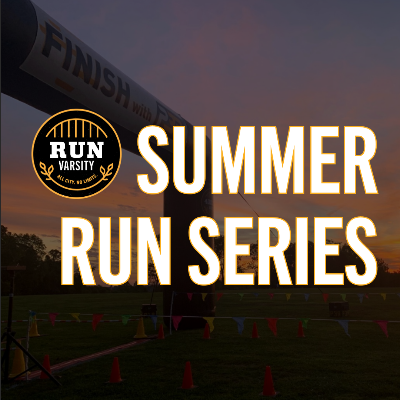 RUN Varsity Offering Summer Run Series to Keep Teenage Runners Moving, Motivated this Summer
06.09.23
The series of free and paid events will include group runs, educational talks, meet and greets, a timed race and a multi-day run clinic
PITTSBURGH – P3R's teenage running program, RUN Varsity, is offering a Summer Run Series for individuals ages 13-19 years old. The RUN Varsity Summer Run Series is a way for middle and high-school-aged athletes to stay motivated, meet new people and train in new ways this summer. The series of free and paid events will include group runs, educational talks, meet and greets, a timed race and a multi-day run clinic.
"This lineup of events is a perfect way for teenage runners to connect with other runners as well as improve their knowledge and skills for the upcoming school year," said Amy Scheuneman, P3R's Director of Youth Programming. "We are certain these events will benefit all in attendance."
There are three FREE events being held on June 15, June 28 and July 5 throughout the city that include an educational component as well as a group run. Group runs will have a short course (approx. 1.5 miles) and a longer course (3.1 miles) to allow each level of runner the opportunity to participate.
On June 15, the free event will be held at White Oak Park (Magnolia Pavilion) beginning at 6 p.m. Attendees will hear from UPMC Sport Medicine Nutritionist, Mike DiBiasi, about proper nutrition for teenage athletes including how to properly fuel, hydrate and replenish your body for training days, race day and recovery days.
On June 28, the free event will be held at Hartwood Acres (near the Amphitheater) beginning at 6 p.m. Attendees will go through a Mental Wellness Workshop provided by Donato Fanelle from KPEX Consulting, where runners can apply concepts heard to the run that will start at 7 p.m. Upon completion of their run, runners will be able to reflect with Donato about their application of techniques.
On July 5, the free event will be held at Mt. Lebanon High School Track beginning at 6 p.m. Attendees will hear from professional, elite and collegiate runners about their running experiences as well as advice on recruiting and monetization through Name, Image and Likeness (NIL) opportunities. Runners will also be able to ask questions and run with these athletes during the group run.
On July 7, Run Series participants are invited to participate in the RUN Varsity Heat of the Fleet Feet Liberty Mile in downtown Pittsburgh beginning at 7 p.m. This one-mile race is a place where teenagers will compete against each other in a unique and electrifying environment.
On July 27 and 28, Run Series participants will take part in the UPMC Sports Medicine Running Clinic at the P3R Track and Field Complex at the RMU Island Sports Center. Top UPMC professionals will lead participants through both physical exercise and information sessions about various topics to "Empower the Teenage Athlete". Participants will also engage with and learn from Hansons-Brooks Original Distance Project Athletes, Brooks' professional distance running team based out of Michigan. All participants will receive a FREE pair of Brooks Running shoes and other clinic swag.
Participation in the Summer Run Series is flexible, and youth can attend the events they are able. To learn more and register, click here.
About P3R
P3R is the engine behind Pittsburgh's greatest races. We strive to inspire any and all to MOVE with us. Best known for organizing the acclaimed annual DICK'S Sporting Goods Pittsburgh Marathon, P3R runs a variety of other high-quality races, events, and health and fitness programs throughout the Pittsburgh region. While many of our races attract some of the nation's highest-profile professional athletes, we offer activities for all ages and ability levels. Anyone and everyone is invited to #RUNwithP3R! Read more at: P3R.org
FACEBOOK: RUNwithP3R INSTAGRAM: RUNwithP3R TWITTER: @RUNwithP3R