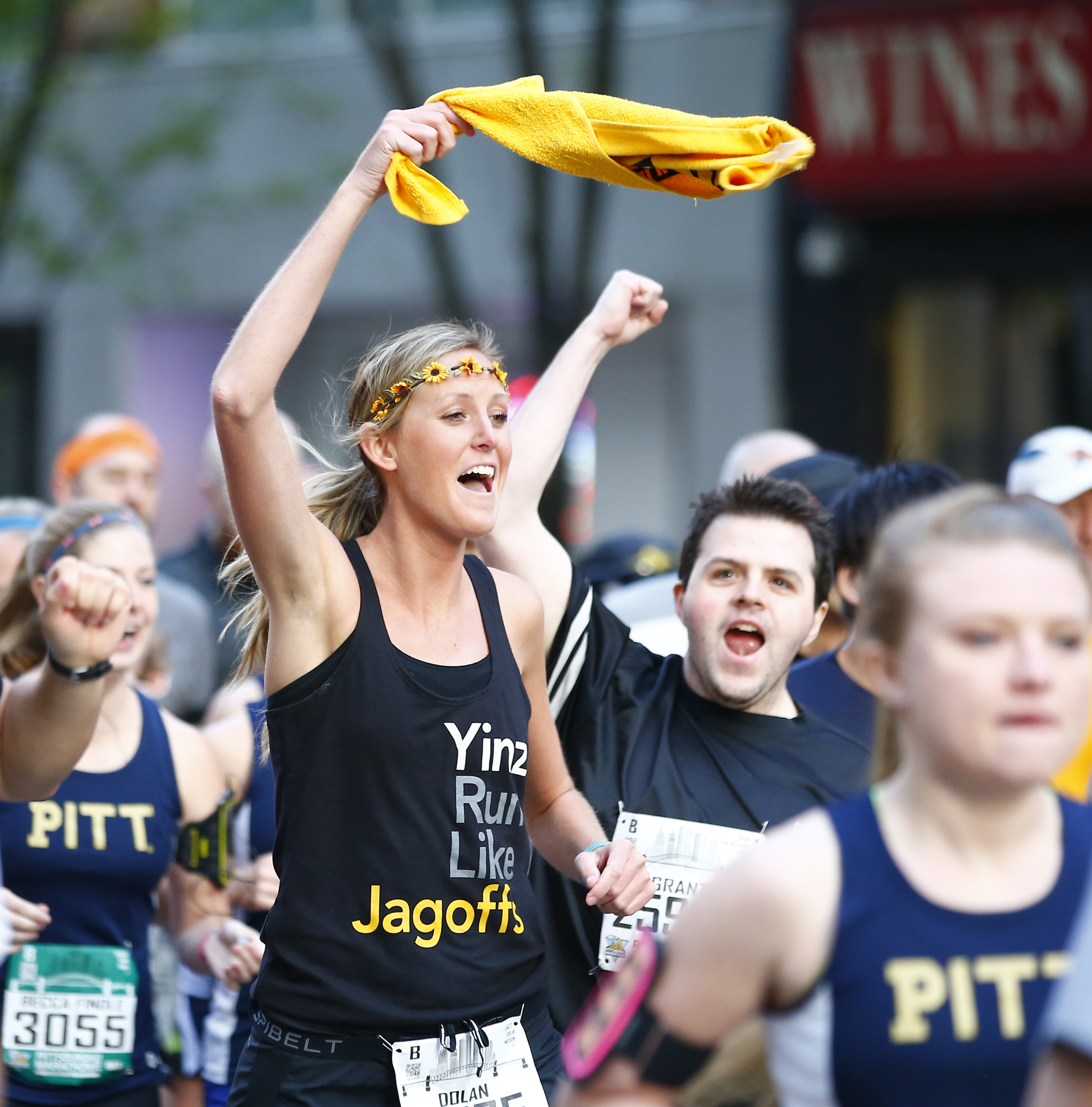 Runners Will Celebrate the Best of Pittsburgh at the 2019 EQT Pittsburgh 10 Miler
10.09.19
Runners Will Celebrate the Best of Pittsburgh at the 2019 EQT Pittsburgh 10 Miler Event to showcase several of Pittsburgh's iconic traditions, including Mr. Rogers' Neighborhood, Pittsburgh sports, pierogies, Pittsburghese and parking chairs
PITTSBURGH (August 28, 2019) — This one-of-a-kind race will take runners through 10 miles of Pittsburgh's history, fandom, and quirkiest traditions. This isn't just another fall race, this is the EQT Pittsburgh 10 Miler. Registration is in full swing, and runners do not want to miss this chance to breathe black and gold as they run through the city on Nov. 2, 2019.
Each mile along the course will feature a different Pittsburgh tradition, icon, or staple. Beginning in Station Square, runners will cross the West End Bridge as they head toward Mr. Rogers' Neighborhood on the North Side, where volunteers await wearing Mr. Rodgers' staple red cardigan, preparing to cheer them on through this beautiful mile in the neighborhood. As they progress through the City of Champions, runners will celebrate Pittsburgh's favorite sports teams as they run past two of our iconic stadiums: Heinz Field and PNC Park. They will also get to run with two-time football world champion Chris Hoke! During Mile Seven, some humor will help runners on their way as we celebrate Pittsburgh's unique language, along with a special appearance from Pittsburgh Dad. Runners will complete their tour of Pittsburgh racing through the Strip District to Downtown.
"EQT is excited to be part of the team that is bringing the very best of Pittsburgh to our city's runners for this year's EQT Pittsburgh 10 Miler," said Ellen Rossi, EQT Foundation Manager. "It's going to be an amazing event that will give runners the full Pittsburgh experience with every mile."

The EQT Foundation, the charitable affiliation of EQT Corporation, has served as the title underwriter of the EQT Pittsburgh 10 Miler since its launch in 2013. EQT is committed to supporting healthy and safe communities, and will help to activate the finish line with a photo station for race competitors to memorialize their achievements.

Post-race, runners and families are invited to head over to Wigle Whiskey for an after party from 10 a.m. – 1 p.m. All EQT Pittsburgh 10 Miler runners will receive a special bourbon spiked Turner's Iced Tea with their race bib.
"The staff has been working really hard to bring all of these Pittsburgh traditions to life during this year's EQT Pittsburgh 10 Miler," said Troy Schooley, P3R CEO. "We continue to elevate the runners' experience here at P3R, and this year's race is a perfect example of it."
For more details on this Pittsburgh-themed race, watch the 2019 EQT Pittsburgh 10 Miler Experience.
New this year, runners have a virtual option, making it possible for runners who are out of town or unable to make it in person to still celebrate their beloved Pittsburgh. For details on to sign up, check out https://www.pittsburgh10miler.org/VirtualRace.
Additionally, runners who participated in the DICK'S Sporting Goods Pittsburgh Marathon weekend, completed the Fleet Feet Liberty Mile, and cross the finish line at this year's EQT Pittsburgh 10 Miler will receive the first-ever Run with P3R medal! For more information about the Run with P3R Challenge, click here.


For more information about the 2019 EQT Pittsburgh 10 Miler, visit: www.Pittsburgh10Miler.org. Follow us on Facebook and/or Twitter for the latest news and race updates.

# # #

About P3R
P3R is the engine behind Pittsburgh's greatest races. We strive to inspire any and all to run with us. Best known for organizing the acclaimed annual DICK'S Sporting Goods Pittsburgh Marathon, P3R runs a variety of other high-quality races, events, and health and fitness programs throughout the Pittsburgh region. While many of our races attract some of the nation's highest-profile professional athletes, we offer activities for all ages and ability levels. Anyone and everyone is invited to #RUNwithP3R! Read more at: P3R.orgFACEBOOK: RUNwithP3R INSTAGRAM: RUNwithP3R TWITTER: @RUNwithP3R

About the EQT Foundation
The EQT Foundation was established by EQT Corporation, one of the nation's premier natural gas producers, and is committed to the social and economic vitality of our operating regions. The EQT Foundation believes in meaningful engagement with the communities it calls home and takes great pride in the role as both a responsible and responsive corporate citizen. The EQT Foundation has developed strong partnerships with a variety of nonprofit organizations to enrich the diversity and viability of our communities, sustain the principles of continuous learning, and focus on environmental protection efforts. Read more at: www.eqt.com/our-communities/eqt-foundation