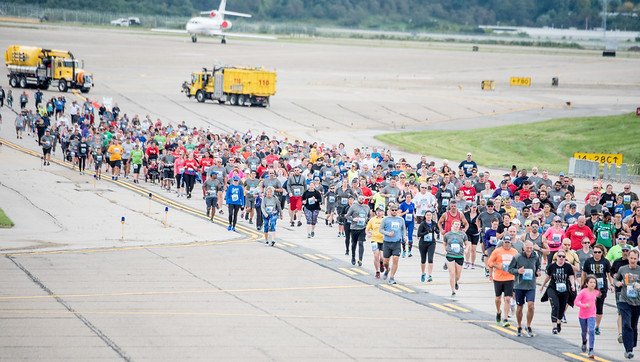 Runners Will Race on Runway, Earn Their Wings and Get Behind-the-Scenes Experience at Pittsburgh International Airport at 2019 FlyBy 5K and 2-Mile Fun Run/Walk presented by CNX Resources
09.16.19
The family-friendly, aviation-themed race at Pittsburgh International Airport is scheduled for Sept. 21
PITTSBURGH, PA – The 2019 FlyBy 5K and 2-Mile Fun Run/Walk presented by CNX will offer participants the rare opportunity to be up close to specialized aircraft and equipment as they test their endurance on a runway of Pittsburgh International Airport. The family-friendly race, scheduled for Sept. 21, is expected to attract more than 1,500 participants.
"The airport is a cornerstone of the Western Pennsylvania community, and we enjoy offering everyone a chance to see it from new perspectives," said Allegheny County Airport Authority CEO Christina Cassotis. "This is a wonderful opportunity for families to have fun on the airfield as part of a unique event made possible with the help of all of our partners."
The course will be lined with more aircraft and equipment than ever before, including the KC-135 Stratotanker, Boeing C-17 Globemaster III, Pittsburgh Aviation Animal Rescue Team, MedEvac Helicopter and PIT'S Operations Team Snow-Mobile Equipment. In addition, P3R will host an interactive flag folding ceremony during the singing of the national anthem.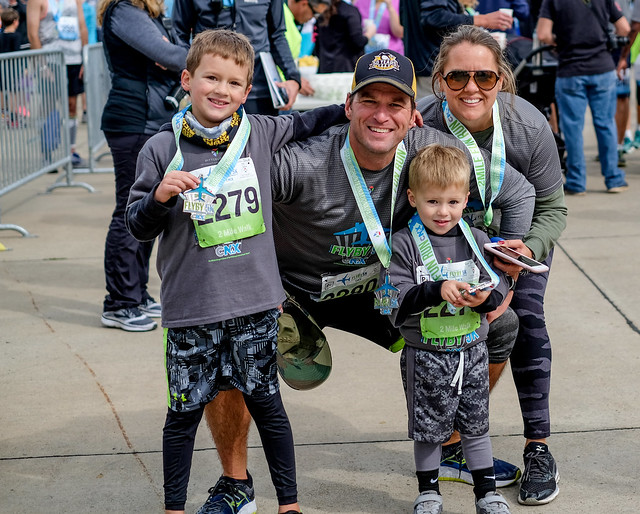 "This race provides runners of all ages and abilities a new fitness challenge while letting them experience Pittsburgh International Airport in a whole new way," said Troy Schooley, P3R CEO. "This event keeps growing and has become a must-do event for families who enjoy being active together."
The fourth annual race is run by P3R in partnership with the Allegheny County Airport Authority. All 5K and 2-Mile Fun Run/Walk participants will receive a technical men's or women's finisher's shirt and medal, as well as enjoy post-race food and entertainment.
The 5K race will start at 10 a.m. and costs $40, while the 2-Mile Fun Run/Walk will start at 10:10 a.m. and costs $20. Children aged four years and younger can participate for free. The race will once again benefit the Allegheny County Airport Authority Charitable Foundation, a nonprofit organization established to assist members of the military, families and others traveling through the airport. For more information or to register, visit www.p3r.org/flyby-5k/.
About P3R
P3R is the engine behind Pittsburgh's greatest races. We strive to inspire any and all to run with us. Best known for organizing the acclaimed annual DICK'S Sporting Goods Pittsburgh Marathon, P3R runs a variety of other high-quality races, events, and health and fitness programs throughout the Pittsburgh region. While many of our races attract some of the nation's highest-profile professional athletes, we offer activities for all ages and ability levels. Anyone and everyone is invited to #RUNwithP3R! Read more at: P3R.org
About Allegheny County Airport Authority
Allegheny County Airport Authority, which manages Pittsburgh International Airport and Allegheny County Airport, is committed to transforming Pittsburgh's airports to reflect and serve the community, inspire the industry, and advance the region's role as a world leader. Its 2018 Annual Report detailing growth and improved financial position can be found at http://www.flypittsburgh.com/ar18.
Pittsburgh International Airport serves more than 9 million passengers annually on 17 carriers. Air Transport World named Pittsburgh International its 2017 Airport of the Year. Travel + Leisure and J.D. Power have again named Pittsburgh International a Top 10 Domestic Airport in 2018.