The Creation of an Annual Tradition and Lasting Friendships
09.28.21
"The shared experiences we've had in the three years of running the GAP Relay together are great memories for all of us, and it really bonds us."
Our team consists of Phil O'Hara, John Snyder, Tony Spalvieri, Joe Maddalon, and Chris Stofko.

What inspired you to get a team together for the event?

I (Phil) got the announcements from P3R in the first year and thought it sounded like a great idea. We originally planned to be an 8-person team, however, one by one, people had to drop out for various reasons. Eventually, it just left me, Tony, and Joe. Then, Tony recruited John, which gave us the four crazies we needed for a 4-person team, so that's what we decided to go with! Of it all, the best story is how Chris came to be part of the team.

We originally had planned to drive ourselves. The Thursday before the event, we had worked a schedule where on each leg we would have one person running, one person driving, one person navigating, and one person resting. As we planned, I was on the phone with my friend Chris that day, and he asked me about my weekend plans, so I started telling him about the race and our plans. The way I remember it, as we are talking, he just volunteered to take the next day off, stay up for over 24 hours, and drive us all throughout the event - in his own vehicle! Having Chris, the team was then complete, but it really isn't fair to just call Chris the driver each year because he does so much. He takes pictures, he plays music, he buys snacks, and so much more. Chris has absolutely been our MVP. To this day, I have no idea how we would have managed if we had to drive ourselves.

Why does your team run the event each year?

At this point, our little team has become very close. Although we really only all get together for this one event each year, we have a group chat that is active throughout the year. I'd certainly say we continue to do the event to find ways to keep challenging ourselves into our later forties, but mostly we just have a great time together. The shared experiences we've had in the three years of running the GAP Relay together are great memories for all of us, and it really bonds us.

One of the things that is really neat about how close we have gotten is that myself, Chris, and Joe had never met John until the moment we picked him up at his house on the way down to Cumberland in 2018 for the start of the first race. Even now, I only see him once a year for the GAP Relay, but he has become a great friend, and I really look forward to getting to see him every year.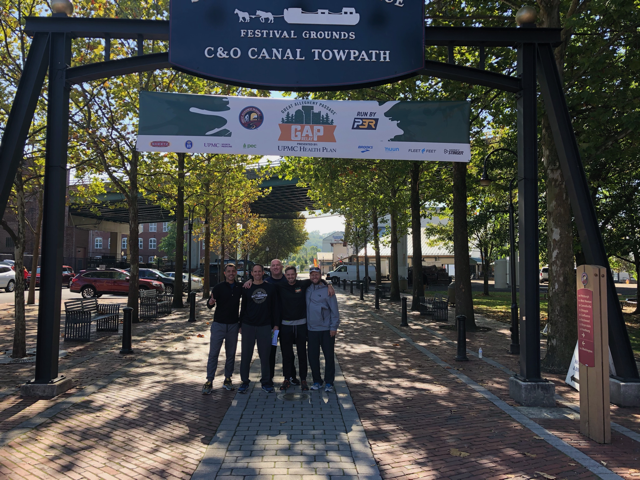 What is your favorite memory of the event?

We have SO many great memories! Most of the things we bring up to each other start with "Remember when…"
My running hat flew off the van while driving down the highway, and I made the team turn around it to go back and pick it up.
We used the wrong coordinates for one of the exchanges zones. It turned out to be the end of the best leg I had ever run. I got to the exchange zone and ended up having to wait about an hour for the team to get there. As John says, I can laugh about it now!
John's pop-up changing tent
Joe called us while running his very first leg ever wondering when it would stop going uphill

I have to say, my favorite memory might be from last year. Instead of going completely virtual, we decided to get together in August and still run on the trail. We rented a vehicle and followed the exact same course as the race. The only difference is that we did not run overnight. Unfortunately, Joe wasn't able to make it, but it was really fun. After the first day of running, we celebrated with some dinner.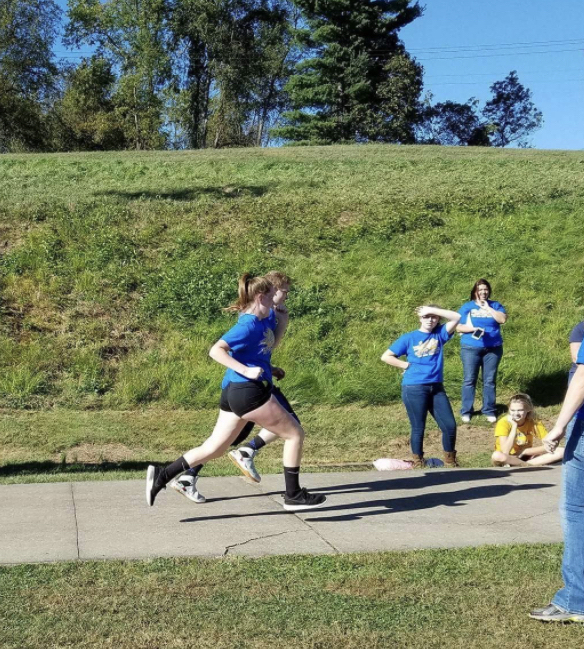 As a team, our favorite memory is probably crossing the finish line together as a team each year.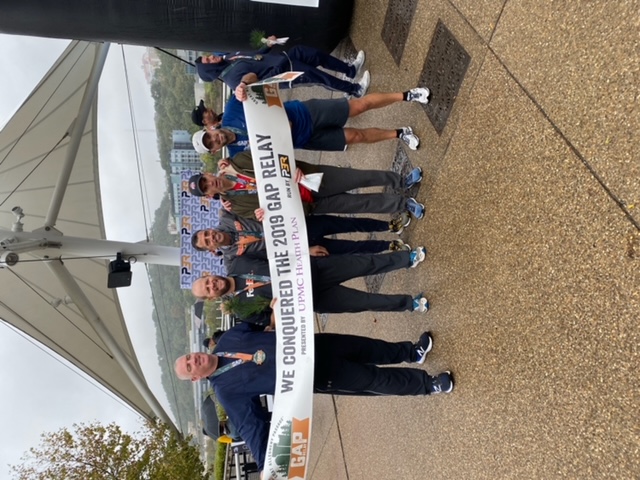 What advice do you have for teams participating for the first time?

Be sure you have a driver! As I said, Chris has been our MVP, and we couldn't do it without him. Chris would probably say, "Don't drive your own car because it will stink for a week afterward!"

What is the most challenging part of the event?

Probably the most challenging part of the event is running in the early morning hours where it is really dark (sometimes also cold and wet) and you have to rely on one another to keep up the motivation.

What does your team's training plan look like? How's it going so far?

We all train individually and in different ways. Generally speaking, we are all building up our miles and our endurance. It's very similar to a marathon training plan, but instead of running all your miles for a given day at one time, try doing two shorter runs to simulate the way it will be during the event. So far the training is going really well. From what I can tell, this year might be the one year where all of us are in a good spot when we get to the start line!

How does your team plan to celebrate after the event?

We are going to drive back to Pittsburgh - just kidding! We'll definitely take part in the post-race festivities as we have done each year!

Anything else you would like to add?

We would just like to thank P3R for putting on a great event that means a lot to the five of us.