FedEx Pittsburgh Corporate Challenge
Team Building and Wellness
Get your office running and promote a culture of health and wellness in your workplace with the FedEx Pittsburgh Corporate Challenge. Together with your colleagues you can tackle your wellness goals with any of the DICK'S Sporting Goods Pittsburgh Marathon Weekend events. Bond over training for the marathon or push past your limits with your first 5K. Every race is a chance to encourage an active lifestyle in your organization.
Why Take the Challenge?
Employee wellness programs that encourage physical activity can improve the overall health and well-being of your workforce. The Pittsburgh Corporate Challenge is a great way to get your employees active and encourages teamwork, all the while having fun doing it. Colleagues work together and cheer each other on every step of the way, from day one of training to the moment they cross the finish line.
Employee Benefits
The best part of the job is the employee benefits. Enrolling your organization in the Challenge is simple and earns you perks for all employees, including but not limited to:
Free personalized training plans
Invites to running seminars and training runs
The opportunity for employees to earn an exclusive Corporate Challenge gift for completing multiple P3R races
Other VIP perks during the DICK'S Sporting Goods Pittsburgh Marathon (like access to the Corporate Challenge tent with free food, drinks, and more!)
Race Weekend Information
As a participant in the FedEx Pittsburgh Corporate Challenge, your race bib will include a FedEx Pittsburgh Corporate Challenge Festival Tent icon. This icon will give you access to the FedEx Pittsburgh Corporate Challenge tent at the Finish Line Festival, where you will receive VIP perks like free food and drinks. If the icon is missing from your bib, please visit the Runner Services booth before leaving the expo for assistance.
2023 Rush to Crush Cancer
The inaugural Rush to Crush Cancer is slated to take place on May 20, 2023! This new community-based event that will impact cancer research and improve lives. There are three ride distances in addition to many other ways to get involved. It's not a race by rather a ride bringing people together to pedal, partner and participate to help raise critical funds for UPMC Hillman Cancer Center, a leader in cancer research and patient care. Get a team of coworkers together today and JOIN THE RIDE!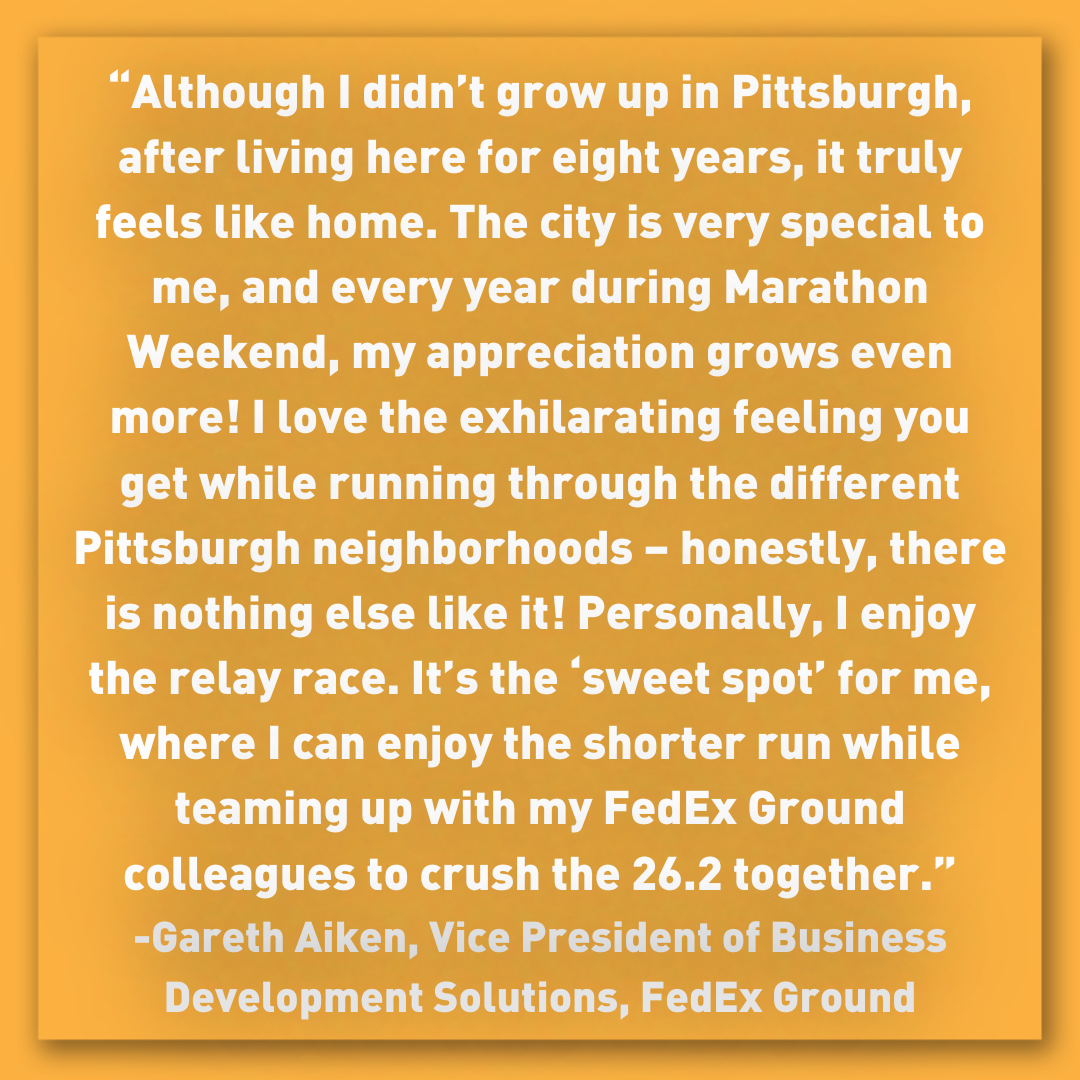 Get Started
Ready to build a corporate team and healthy workplace? Employers and employees interested in getting your company involved can email Kendra Snyder at kendra.snyder@p3r.org to learn more and get started.