2023 P3R MOVE Pass
Always offering the best ways for everyone to MOVE, P3R is proud to introduce the 2023 P3R MOVE Pass. This special pass grants the MOVER with access to the 2023 DICK'S Sporting Goods Pittsburgh Marathon or UPMC Health Plan Pittsburgh Half Marathon, 2023 Fleet Feet Liberty Mile, and 2023 EQT Pittsburgh 10 Miler or 10K. As a special thank you for being part of this exclusive group, you'll receive a FREE P3R MOVE sweatshirt!
This pass is only available to the first 500 registrants and just for a limited time - registration ends on January 31!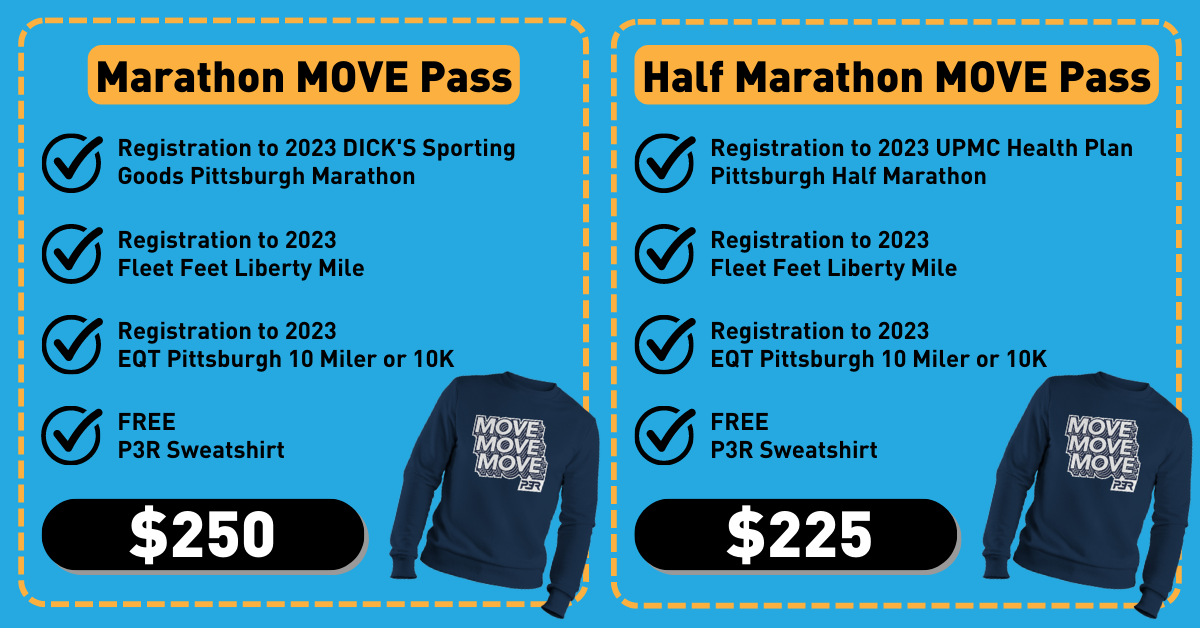 Questions & Answers
Is this the same as the P3R Insiders?
Nope - this is a little bit different and replaces the previous P3R Insiders program.
Isn't this the megaticket?
The 2023 P3R MOVE Pass is for the same events but for the 2023 calendar year, and those with the pass will have completed the 2023 #RUNwithP3R Challenge! (The previous megaticket (which is no longer available) started with the Liberty Mile and ended with Marathon Weekend, so events spanned two calendar years.)
What if I'm already registered for the marathon or half marathon?
Great question! You should have received an email with an access code to register for the MOVE Pass (minus the marathon or half marathon events and fees). If you didn't receive the email, please contact us at info@p3r.org.
If I'm unable to attend one of the events, can I transfer my registration?
We don't yet have the dates for the 2023 Fleet Feet Liberty Mile or the EQT Pittsburgh 10 Miler & 10K. If you purchase the MOVE Pass and find you are unable to attend, you will have options:
Participate virtually (ideal if you're hoping to complete the #RUNwithP3R Challenge)
Transfer your event registration to someone else. If you choose this option, please contact us at info@p3r.org.
I'm trying to sign up but unable to complete the registration process. Why?
You probably don't meet the minimum age requirements. Participants in the marathon must be at least 18 years of age on race day, and participants in the half marathon must be at least 16 years of age on race day. If you don't meet that requirement, the system will not permit you to finalize your registration.
The Fleet Feet Liberty Mile typically has registration levels. Which is included?
The highest level, of course! The Blue Level will include your race shirt, finisher's medal, elite-style bib, and a bonus gift!
I'm not yet sure whether I want to MOVE in the 10 Miler or 10K in November.
You don't need to know that just yet. You can decide when we open registration for the EQT Pittsburgh 10 Miler (typically in June).