How does it work?
There are several different ways you can set up your team:
150-Mile Relay Options:
7 to 8-Person Team
5 to 6-Person Team
4-Person Team
40-Mile Relay Options:
5 to 8-Person Team
3 to 4-Person Team
2-Person Teams
What can you expect?
Quite simply, you will have the experience of your lives and the stories to go along with it! You can also expect:
One (1) pair of Brooks Running shoes for each team captain
A tech shirt for each team member
A goody bag for each team member
A finisher's medal for each team member
Race bib for each team member
A post-race party in Pittsburgh, PA to celebrate your accomplishment
A team race bracelet (your relay baton!)
Getting to break the finisher tape as a team
150 miles of scenic trail 150 miles of logistics planned for you, including 23 exchange zones and vehicle turn-by-turn directions
Team awards
Games and contests
Food and non-alcoholic drinks at some exchange zones
Hundreds of volunteers' and P3R team members' efforts to host an amazing event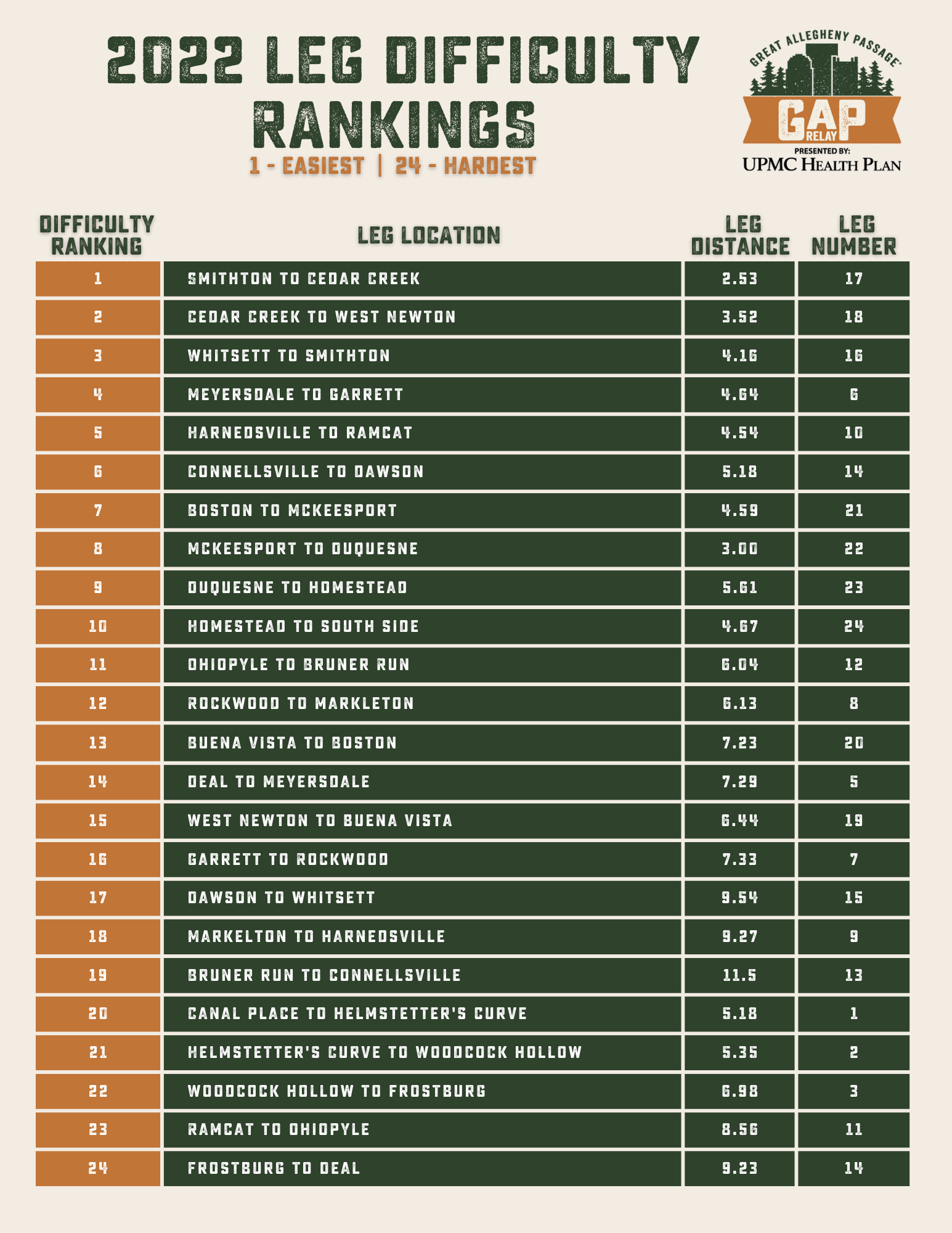 Share on social!
Are YOU running the GAP Relay presented by UPMC Health Plan this year? Share these images on your social media channels and tag us so we can cheer you on!
Gather your best running friends and join P3R for an unforgettable adventure along the Great Allegheny Passage. Trust us, you do NOT want to miss this one.
Teams are responsible for providing their own vehicles.
Running the full 150 miles with a team of 6 or 8? You're going to need two vehicles to get you to your assigned exchange zones.
Running the full 150 miles with a team of 4? You can get through the race with one vehicle.
We recommend you use passenger vans (large sedans or SUVs are also great) as opposed to smaller cars. Remember, you're going to be in the vehicle for an extended period of time, so you want to be comfortable and have enough space for all of your stuff!
Rules:
Seatbelts must be available for all passengers
Vehicles must adhere to all applicable safety laws
No vehicles wider than 6'6" and/or longer than 20'
No motor-homes, RVs, campers, trailers, busses, and/or limos
We know what you're thinking: can we have a driver who's not running? Yep - you sure can. He or she will need to officially register as a driver for your team.
It's a 150-mile adventure relay starting in Cumberland, MD. Your team of eight, six, or four running buddies will start on Friday afternoon and run through the night along the Great Allegheny Passage. You'll end the race in Pittsburgh, PA on Saturday, October 15 and celebrate your victory (you did just run 150 miles, after all) at the post-race party.
You're going to be tired after running 150 miles. There are plenty of places to stay around the start, finish, and along the way.
150-Mile Race from Pittsburgh to Cumberland (October 14-15, 2022):
8-Person Team (3 legs each)
6-Person Team (4 legs each)
4-Person Team (6 legs each)
Please note: all GAP Relay participants must be at least 13 years old by October 14, 2022. Any participant younger than 18 years old must have a waiver signed by his or her guardian and must be accompanied by someone at least 25 years old in the vehicle (this person can be another member of the team).
What direction are we running in 2022?
We are starting in Cumberland, MD, and running to Pittsburgh, PA!
Where does the one-day race start?
Since we're changing directions this year, we need a new start line location for the one-day adventure option! Teams will start at the Whitsett exchange zone and run the 9 legs between Whitsett and Pittsburgh's South Side (about 40 miles).
What time does the race start in Cumberland?
We anticipate the first teams will start at 3 p.m., while other teams won't start until a little later in the afternoon. Teams will receive their official start times at least two weeks prior to the event.
What time does the one-day adventure race start in Whitsett?
We anticipate the one-day adventure will start at 7 a.m.
Are you planning the Ultimate GAP Relay Trail Challenge again?
Yes! Registration for the virtual challenge will open later this year.