Let's Get MOVING!
About RUN Varsity
RUN Varsity is the P3R program designed to support, educate and encourage teenage runners. While middle schoolers aspire to run for their school's varsity team and high school runners compete at the varsity level, all teenagers are welcome at RUN Varsity events. RUN Varsity is the natural transition following P3R's award-winning youth program, Kids of STEEL. RUN Varsity does not interfere with athletes' normal school sports seasons, but in turn supplements them with summer events, grant opportunities, and educational components such as webinars, videos, and in-person events.
Subscribe to our newsletter to stay up to date on upcoming events and opportunities
Upcoming Events
RUN Varsity Summer Run Series
The RUN Varsity Summer Run Series is a way for middle and high-school-aged athletes to stay motivated, meet new people and train in new ways this summer. This series consists of free and paid events ranging from group runs, educational talks, meet and greets, a timed race and a multi-day run clinic.
Group runs will have a short course (1-2 miles) and a longer course (5k) to allow each level of runner the opportunity to participate.
FREE Events:
1. Thursday, June 15 - 6pm @ White Oak Park (Course Preview Run and Nutritional info for Teenage Athlete presented by UPMC Nutrition Coordinator, Michael DiBiasi)
2. Wednesday, June 28 - 6pm @ Hartwood Acres (Training Run and Mental Health Presentation: "Building a Confident Mindset" by Donato Fanelle, KPEX Consulting Group)
3. Wednesday, July 5 - 6pm @ Mt. Lebanon HS Track (Shake-Out Run, Meet & Greet with professional runners participating in the Fleet Feet Liberty Mile and hear from P3R NIL Athletes about recruiting and marketing yourself)
PAID Events:
4. Friday, July 7 - 7pm @ Downtown Pgh (Fleet Feet Liberty Mile - RUN Varsity Heat)
5. Thursday & Friday, July 27 & 28 - 8:30am-4:30pm @ P3R Track Complex at RMU Island Sports Center (UPMC Run Clinic) *FREE Brooks Running Shoes and other fun items to all participants
To learn more and register for these events click here!
P3R Board of Directors' Scholarship
The P3R Board of Directors' Scholarship has been established to recognize and support graduating high school seniors who inspire others to MOVE. This scholarship will be awarded to students that demonstrate exceptional leadership and service, both through and beyond athletics.
Recipients were selected based on a combination of school involvement, athletic participation, academics, community service, leadership and essay questions.
Congratulations to Grace Baldauff (Northgate High School), Zalayah Edwards (Fort Cherry High School), Elisabeth Ervin (Valley High School), William Flynn McCracken (West Mifflin High School) and Riley Pointkowski (Highlands High School)
The P3R Board of Directors recognized recipients during the DICK'S Sporting Goods Pittsburgh Marathon Weekend of Events VIP reception on May 5, 2023.
New Grant Opportunities to Support Youth in Western Pennsylvania
Our mission is to inspire any and all to MOVE! The P3R Movement Grant is a unique grant opportunity that is open to any and all youth (individual youth and youth organizations serving students under 19 years of age) regardless of sport or activity. If you need assistance with purchasing equipment, registration fees, hosting events, or anything that will help you and/or your team MOVE, this opportunity is for you! This grant can be awarded to individuals, teams, or for events.
Click Here to learn more and apply.
MOVE Together to Win a $500 Grant for Your School
Training and participating in events is a great team-building exercise, and is also great for conditioning. When you register for the UPMC Health Plan/UPMC Sports Medicine Pittsburgh 5K Run, FedEx Pittsburgh Marathon Relay, or the UPMC Health Plan Pittsburgh Half Marathon be sure to include your school name, each school with over 5 or more middle and high school-aged participants will be entered into a chance to win a $500 grant for their school or program.
We saw 26 local schools register 5 or more students at last Year's YMCA of Greater Pittsburgh Turkey Trot. Congratulations to Peters Township and Plum Borough School District for winning!
Webinar with Ultramarathoner and Mental Health Advocate, Greg Nance
On Thursday, February 16, Greg Nance spoke with teenagers and answered their questions in a live webinar. In 2022 Nance took a 3,156-mile run across the United States to raise awareness of youth mental health. Struggling with depression and substance abuse as a teen, running and volunteering helped Nance get back on track. Stay tuned for more events like this.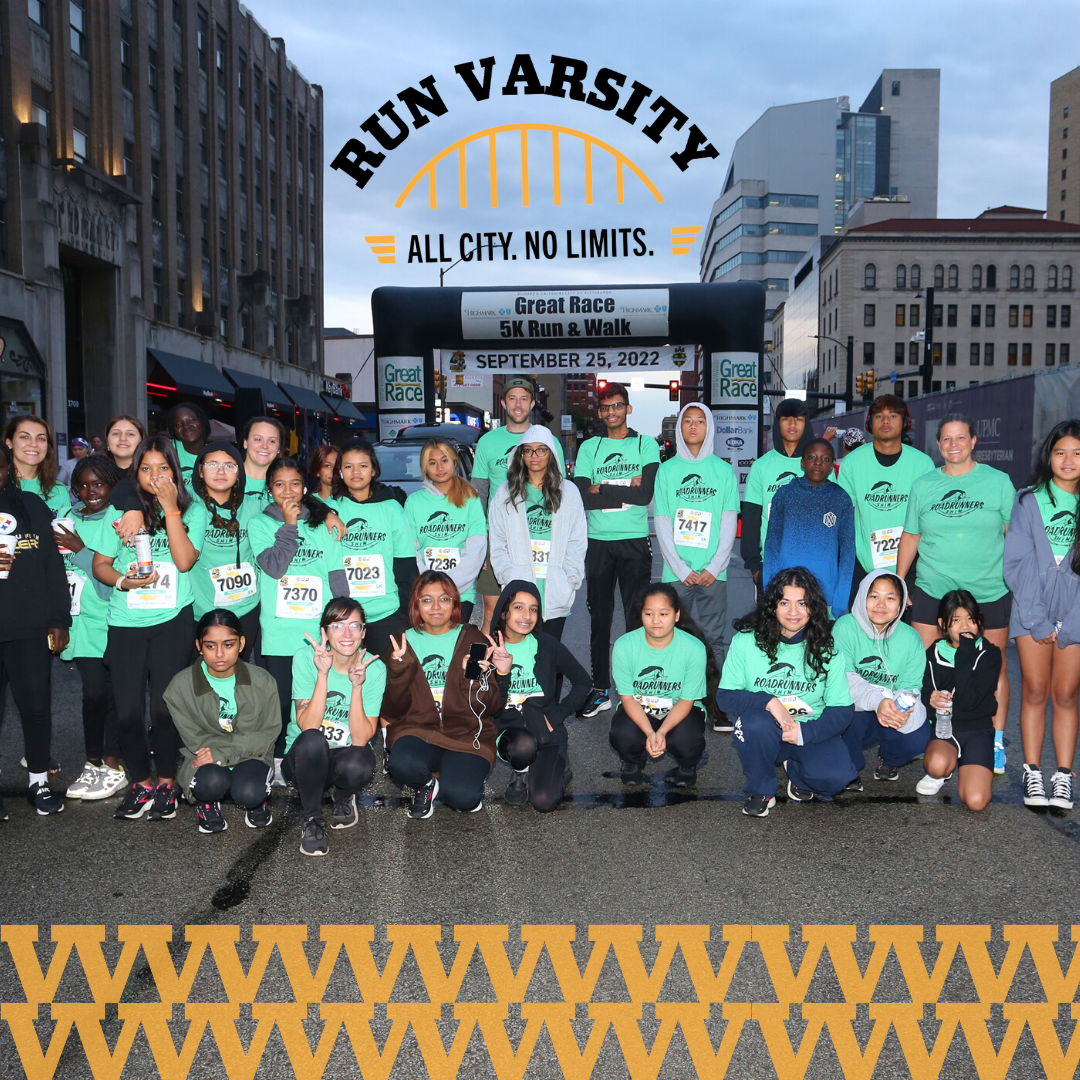 Check out the links below to all of our current content and guides!
Find the UPMC Pittsburgh Half Marathon Training plan HERE
Find the UPMC Health Plan/ UPMC Sports Medicine Pittsburgh 5K training plan HERE!
Check out our latest 4RUN2 Varsity Blog!
Once kids start the Kids of STEEL program, they stay. Having something like RUN Varsity will help to keep them running."
Get updates on RUN Varsity!
Stay up-to-date with all things RUN Varsity by joining our email list.
Sign Up