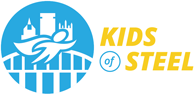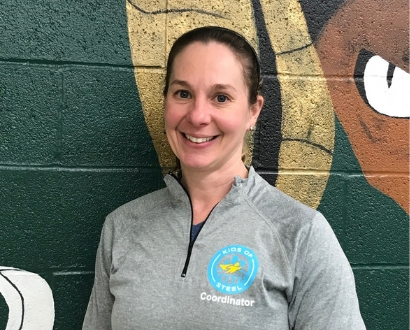 Coaches Hitting Their Stride Series
02.13.19
Read about Coach Jen Siegle's journey to becoming a coach, and how she coaches at her site!
Meet Coach Jen Siegle
Coach at Hance Elementary in Pine Richland School District
Q: How does your site operate?
A: Last year we had 50 students sign-up for Kids of Steel. We had approximately 30 kids at each of our training sessions. We run our sessions after school - last year we did trainings twice a month. This year, we are looking to do weekly sessions. Practices consisted of a warm-up, and then we would split our group into 2. One group would do different fitness stations (jumping, push-ups, lunges, etc.) and the other group would run/ walk around the gym. We would then switch. Then we usually play some sort of game/ relay as a group. Finally we would have a nutrition lesson on one of the food groups, and sample of some food from that group. This year, we have also added Family Fun Fitness nights to bring families into the Kids of Steel fun! We just had our first Fit Night, and everyone had a great time!
Q: How did your Kids of Steel story begin?
A: Three years ago our school began participating in the Kids of Steel Program. I was running my first half marathon that year, and I thought it would be fun for my daughtter to do the 1 mile kids marathon with me the day before the race! Last year, I took on the coordinator position for our school. I am a pediatric nurse, and I love seeing the kids being active and healthy. Our school wanted to increase student participation in the program, so I was happy to take on the role and add the after school training sessions! The students had a blast last year, so we are hoping to increase our numbers this year!
Q: How do you motivate yourself to run? If you are not a runner, how do you motivate your students to run?
A: Music! For me music is a big motivator. I don't run far distances anymore, but I love to throw on a good run mix and get outside when it is nice. When I am on the treadmill, music is the only thing to keep me distracted. For the students, we like to keep running fun! The weather keeps us indoors, so music helps with the laps around the gym. We incorporate a lot of running relay games to keep it fun. Also, this year, we are adding pedometers to encourage them to get as many steps as possible during our training sessions. For now, they will have to share pedometers, but then it becomes a team effort to get as many steps as possible!
Q: What is your favorite P3R event?
A: The Kid's Marathon is the most fun - I love seeing the kids run over the bridge. Personally, I also really enjoy the Great Race. I went to The University of Pittsburgh, so it is always fun to run that route!
Q: What's your favorite post workout meal?
A: I like a protein shake mixed with frozen berries - simple and easy to drink on the go after a workout. I usually exercise in the morning, so an omelette with avocado toast is one of my other favorite post workout meals.